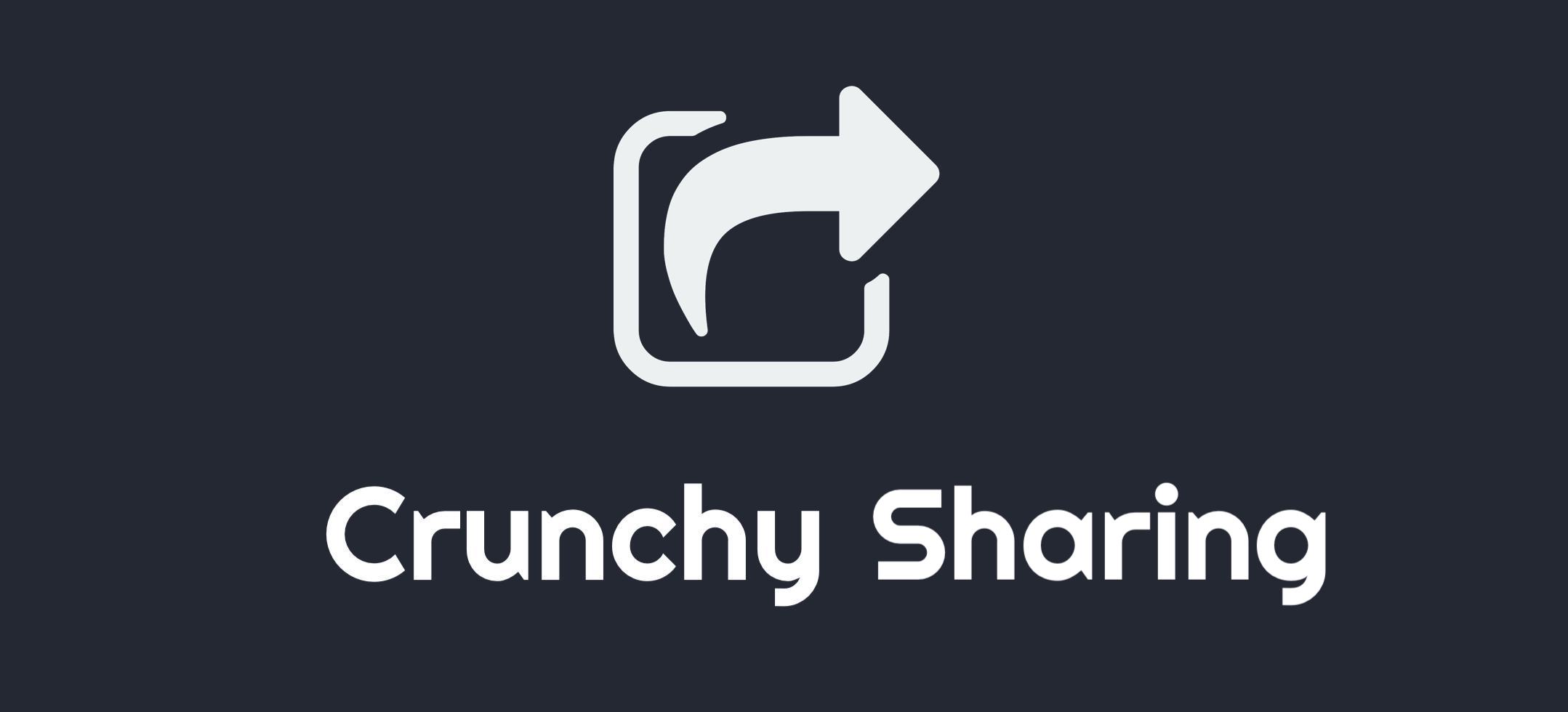 We are pleased to announce our brand new super fast WordPress plugin Crunchy Sharing.
---
Just one time Payment – No recurring Charge
No Monthly or Yearly recurring charge. We believe in value and one time purchase policy.
---
It's a time for all of us to rethink about Social Media sharing plugin. We have published an article last year about how to create social sharing buttons without any JavaScript and it was over night super hit. Article was shared more than millions of times over an internet and all social media blogging platforms.
We received more than hundred of request to create a plugin which doesn't use any JavaScript and it's superfast in loading 🙂
That's a main reason, we have been working on creating super simple Social Sharing WordPress plugin and it's ready for prime time now.
15% OFF Crunchy Sharing Plugin. Use code: CRUNCHIFY15
Crunchy Sharing – A Fastest & Lightweight Social Sharing WordPress Plugin
Main idea behind Crunchy Sharing plugin is to keep simplicity in mind.
We are using Crunchy Sharing on all of our client sites and on Crunchify too. No messing around with code or your functions.php file.
Performance optimizations shouldn't have to be complicated and so everything can be configured with a single click. Crunchy Sharing is created with performance in mind.
Without making any query to Database, External API endpoint, Crunchy Sharing button loads in fraction of seconds.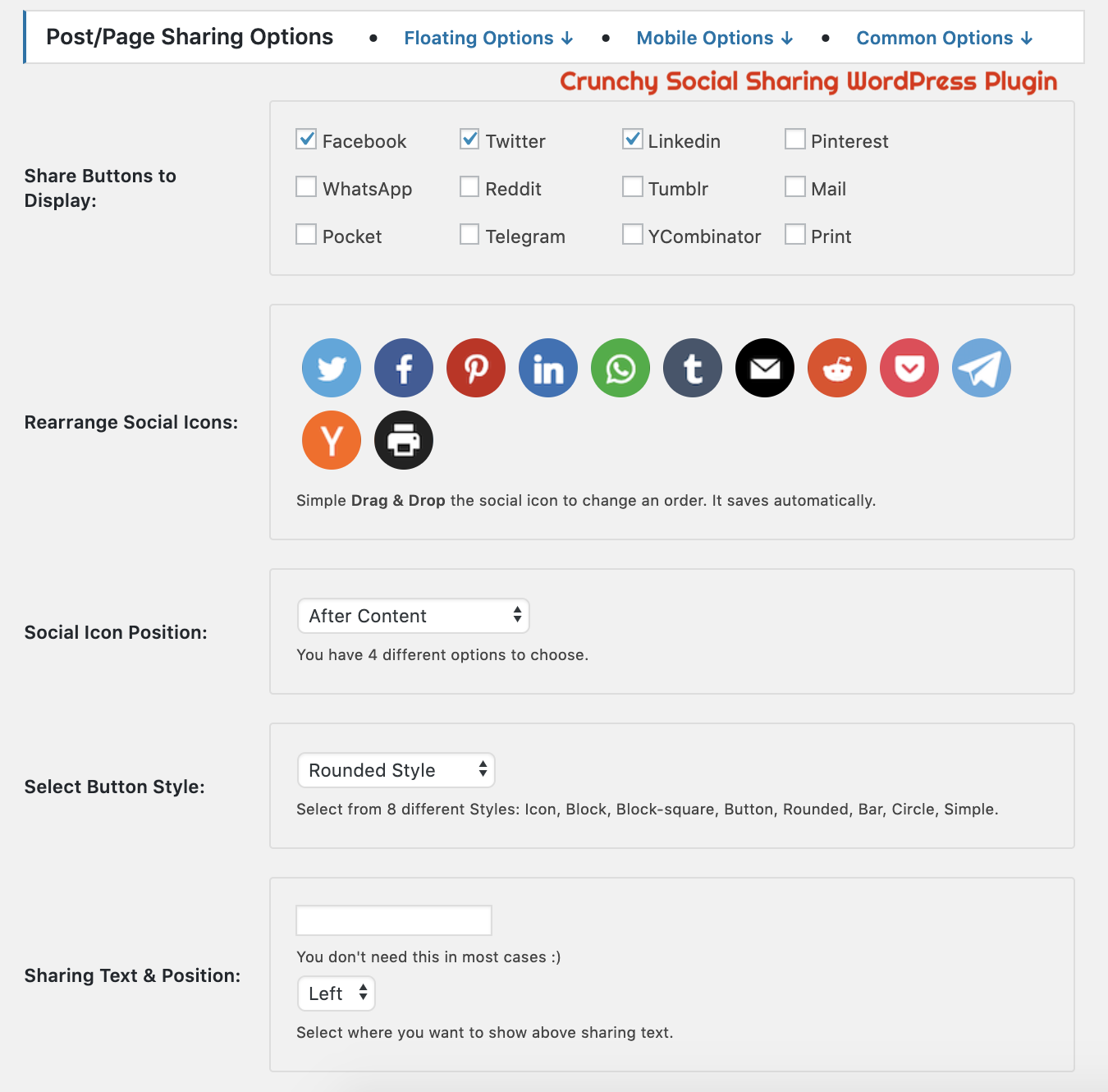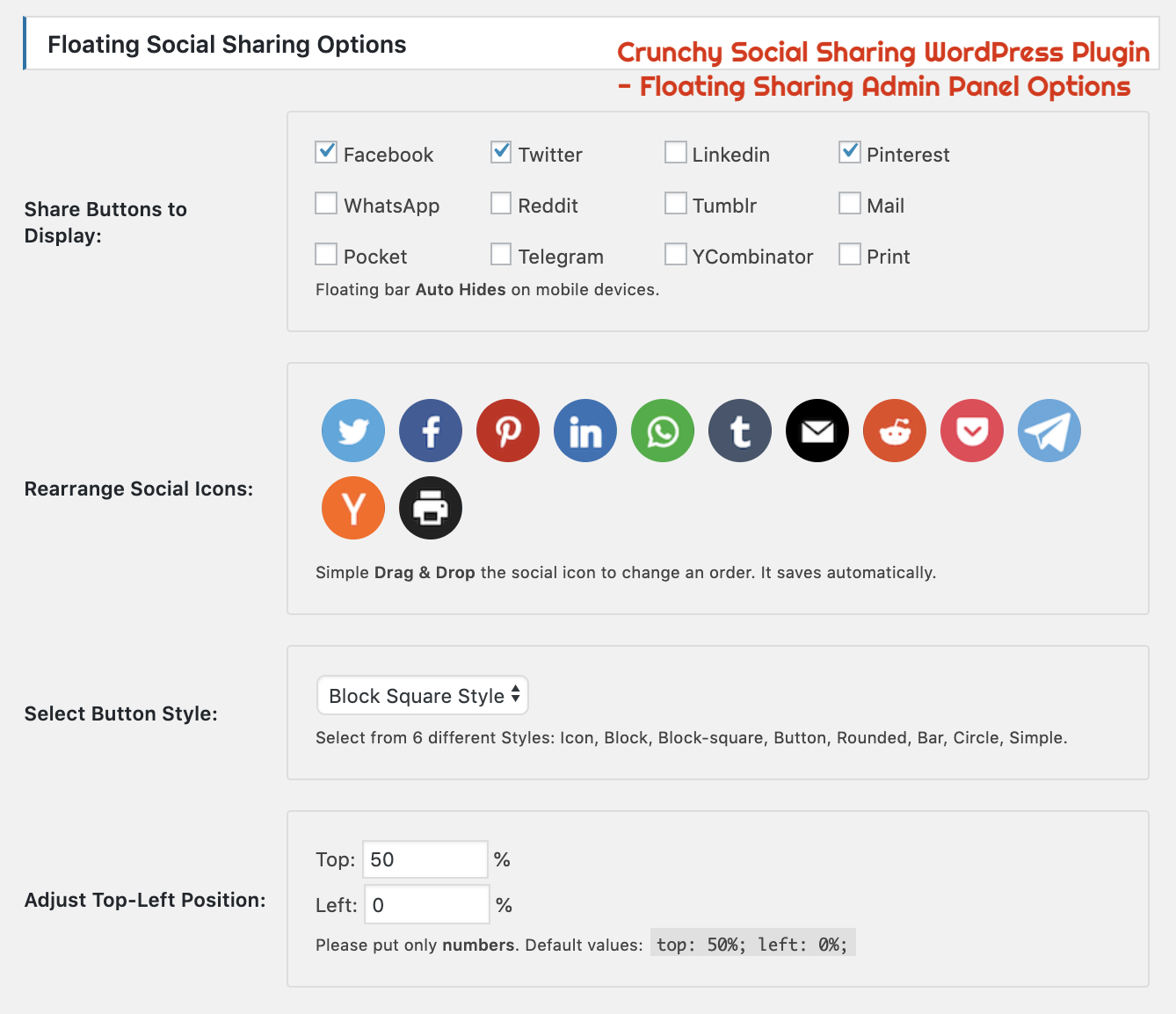 Features:
Here are some of the current features in the Crunchy Sharing WordPress Plugin. And there are a lot more coming too!
Post/Page and any Custom Post Type (CPT) based social sharing button integration
Floating Social Sharing button
Mobile sticky bottom social sharing options
[ crunchy_social_sharing ] short code integration
Auto display on Post, Page, Media and Custom Post type
100% responsive
Reorder Social icon order easily
Before content, After content or Adding top/bottom both options
Add text and align your custom text before social share icons
You have an option to add Pinterest Image incase there isn't any featured image setup for a post/page
Twitter username for Twitter Sharing
List of Social Sharing Options:
Facebook
Twitter
Linkedin
Pinterest
WhatsApp
Buffer
Reddit
Tumblr
Mail
Pocket
Telegram
YCombinator
Print
Shortcode Option:
[ crunchy_social_sharing crunchy_social_sharing_option='facebook,twitter,linkedin,whatsapp,pinterest' twitter_username='Crunchify' icon_order='fa,tw,ln,pi,wh' ]
This is how shortcode works 🙂
More Examples:
Normal Post/Page Sharing Options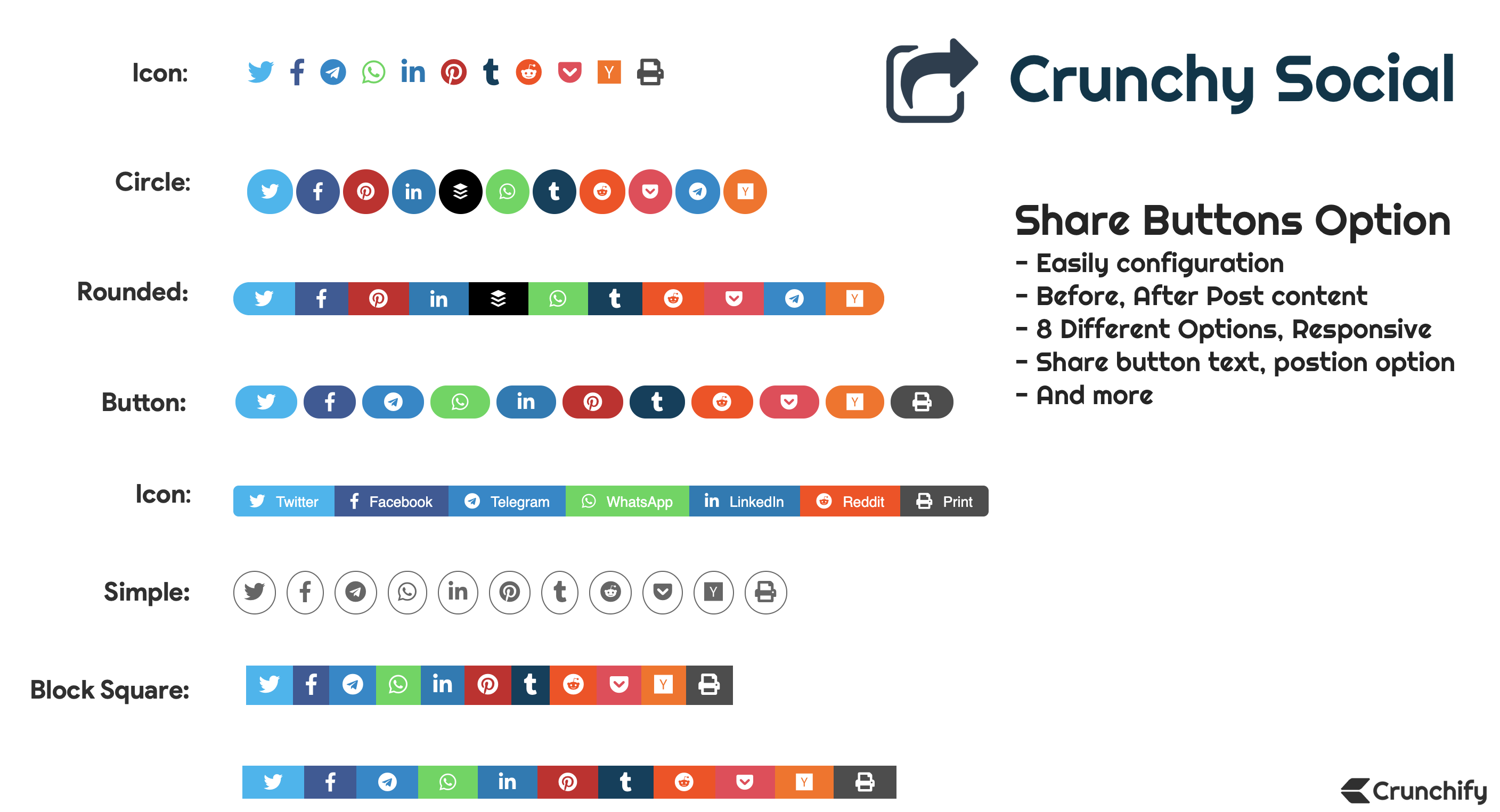 Vertical Sharing View: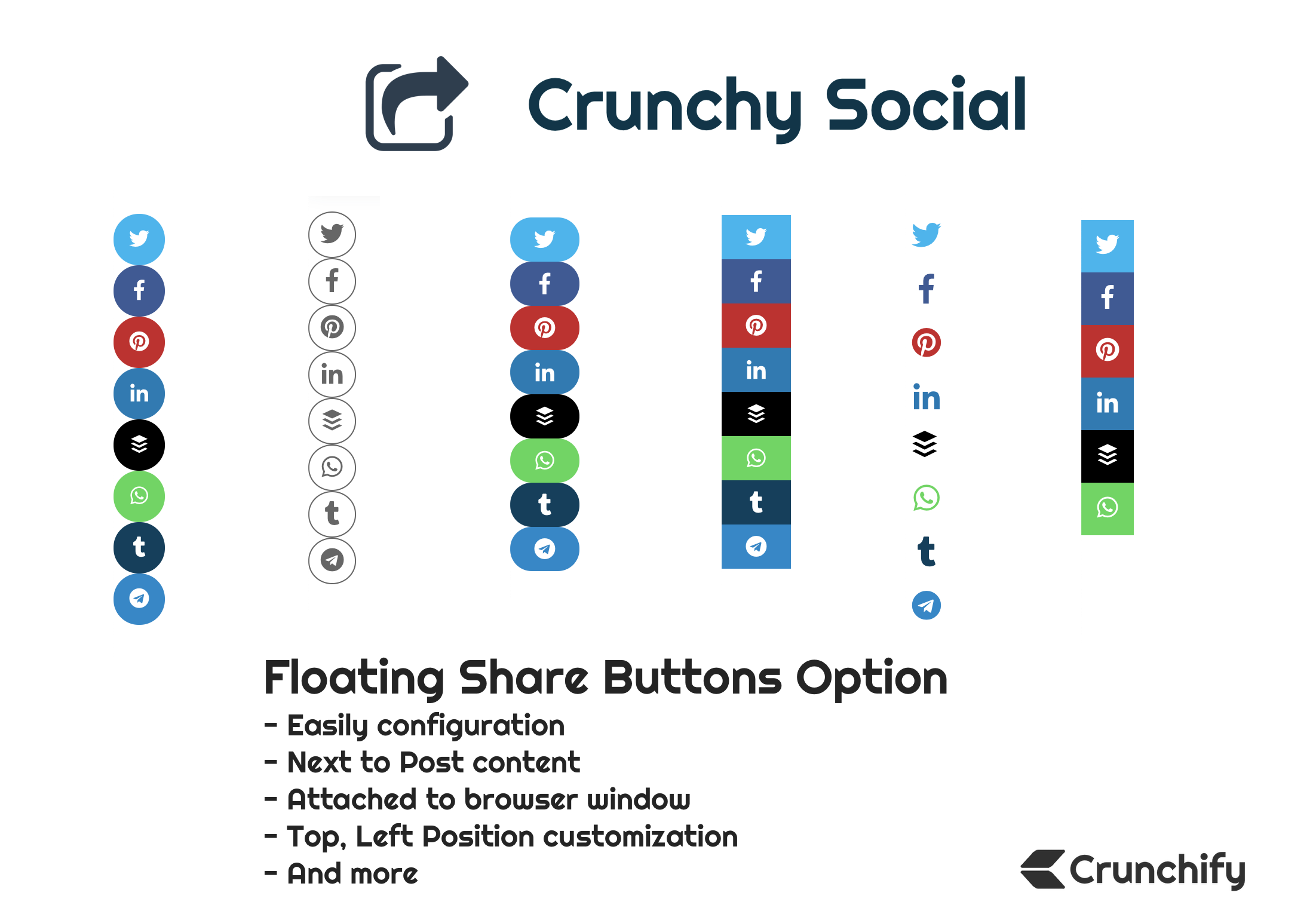 Mobile Sharing View: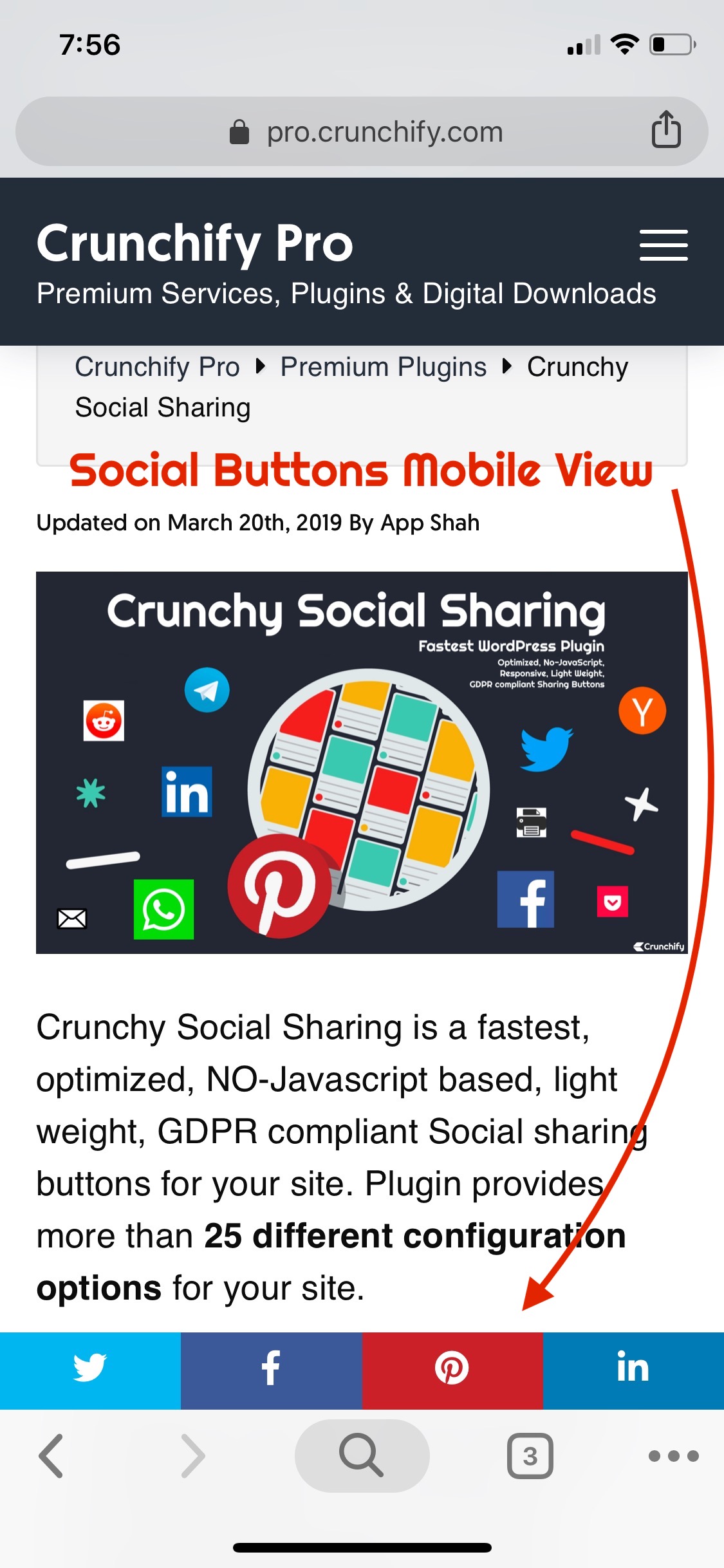 Support From the Developers
You get support directly from myself and our Crunchify Team. We don't outsource anything.
Pricing:
$25. Just one time Payment – No recurring Charge
No Monthly or Yearly recurring charge. We believe in value and one time purchase policy.
And yes, the plugin comes with a 14-day money back guarantee.
We hope you enjoy the Crunchy Sharing plugin as much as we do! We have a lot of great new features already planned for it and hope to make it the #1 lightweight social sharing plugin for WordPress.