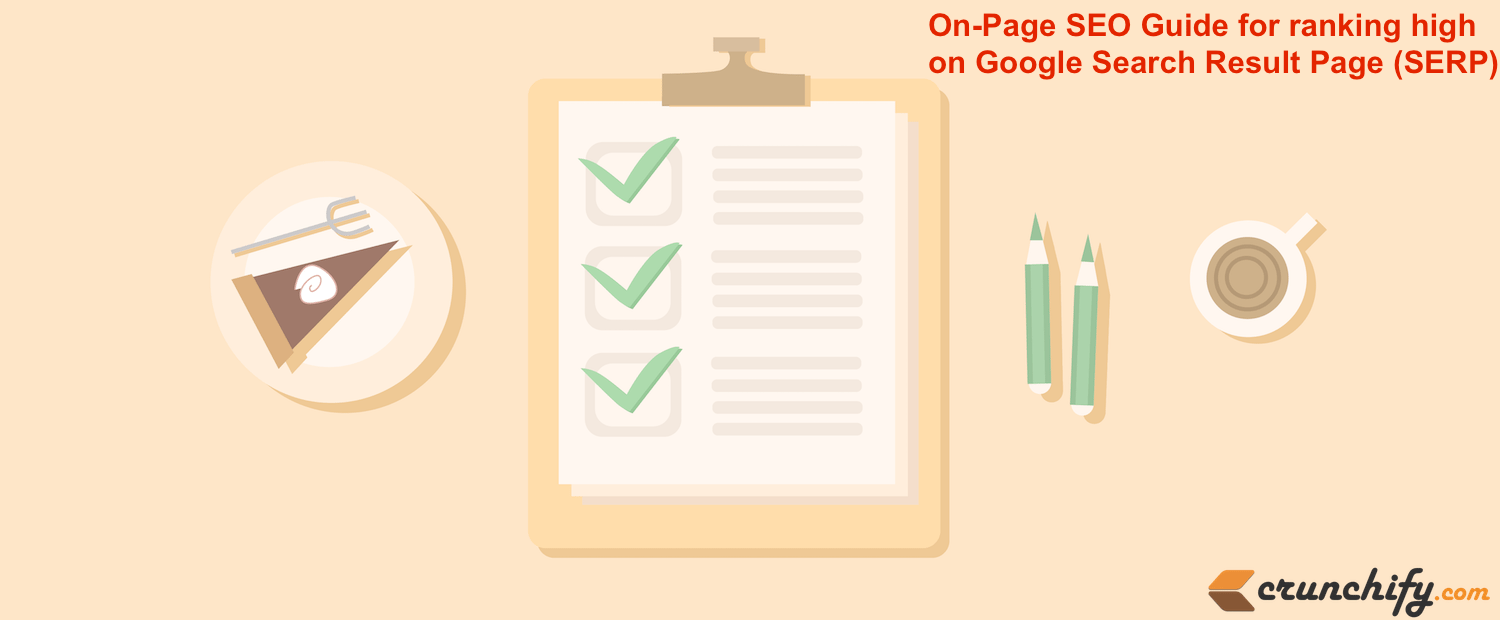 It's a dream of every blogger to ran first on Google Search Result page. So, in this article I'll share some of the best On-Page SEO Techniques to make your website or blog SEO Optimized for higher ranking.
There are 2 factors that play an important role in SEO for better ranking of website.
In this article we will discuss On-Page Optimization, and I will explain you some of the best techniques which you should implement in your blog posts to optimize your blog.
You have probably read these two similar words before called On-Page SEO and Onsite SEO.
Let's not get confuse between these two words:
On-page SEO means to optimize your content or single blog post to rank for specific keyword. This thing include some of core element of the Blog post like Heading, Keyword placement, content quality, meta tags, meta description etc.
Onsite SEO means to optimize your entire website with base things like sitemap and permalink structure of your website.
Why your article should be SEO Optimized
When some bloggers hear that your content should be SEO Optimized, they think it's kind of bad practice or it takes too much time to optimize content. Hmm.. but mark my words it is necessary.
If you are familiar with Search engine Algorithm then you should know that Google improve their Search algorithm every day to serve better result to their users.
We make hundreds of changes each year in order to deliver the best results for our users, and fluctuations in traffic are expected

— Gary "鯨理" Illyes (@methode) May 23, 2017
If you want to keep getting traffic to your website without losing ranking with different search algorithms update then your content must be SEO Optimized.
Search Engine is nothing much but it is just set of different types of Algorithms which looks into different factors of web pages and rank your page in SERP to serve more related and relevant result to users for particular keyword.

We just need to optimize our content and site for search engine that it can easily understand your topic.
If you have queries like Why my article is not ranking on first page then you probably missing On-page optimization.
Now a days, Google doesn't only consider On-Page SEO score while ranking article on SERPs. There are many off-page elements into it:
Domain authority
Page authority
Social media shares (likes, follows, tweets etc.)
Trust score
Backlinks
+ many more elements
But our main goal is to make our content SEO optimized for search engine crawler that it can easily understand topic and rank our webpage for particular keyword. So that our website get targeted users on article.
In Search Engine Algorithm there is a Traditional Golden Rule:
Quality content is one of the most effective part of SEO. If your content quality is good and unique then you probably rank in search engine and your user will get engaged with your website.
You should try adding proper explanations of your topic. And if it is necessary then you should try adding related images to look article more beautiful and understandable.
If possible then try adding infographics and video content to your post it will help user and search engine both to understand topic of your article clearly.
Improve User Experience
Remember, user will not get engaged with your website with just quality article. You have to improve navigation, interface of your website, quick-links and looks better way to get user engaged with your website.
Your website should be responsive for every device so it can be easy for user to read your article on any platform. You can check responsiveness on this Google tool.
Try to fix broken links of your website as soon as possible because it leaves bad impression on user's mind and even web crawler while crawling website. So try to avoid 404 error on your website. You can check broken links on your website with Broken Link Checker.
Here are the most effective factors of on-page optimization that will help you to optimize your blog for higher ranking.
1. Blog Post Title
Post title is most important factor of on-page SEO because people will click and come to your website by reading just post title. So the more your title will be attractive the more users will come to your blog.
Your title must be straight to point of article and it must contain targeted keyword that you have chosen for your blog post. And you should try to add post title in (H1) tag for better understanding for crawler. Because the more density your keyword have the better ranking you will get in search engine.
Your title length should be under 65 characters as par search engine standards.
2. Drop Keyword in first 100 words.
The best place for keyword placement in article is within first 100 words. Some bloggers prefer a long introduction of topic without putting keyword. But google would not find any relevant keyword within intro of your topic so it can affect ranking for that particular keyword. So it is best practice for blogger to put targeted keyword within first 100 words.
3. Post Permalink Structure
Making relevant permalink of your post will help you to drive user to your website. If your permalink is displayed correctly then user and crawler can easily identify topic of article.
Make sure your permalink contains targeted keyword in URL. You should avoid using special character, symbols, brackets, commas, etc. within actual URL.
You should use dash (-) to define your keyword. These permalinks are called as pretty permalinks and these are supported by most of web browsers.
Here is example of Good permalink: https://www.example.com/your-title-with-targeted-keyword/

4. Heading Tags
Heading tags are most important part of your article structure. You should use heading tags to highlight various topics and sub-topics of your article.
There are 6 heading tags from H1 to H6. H1 tag is used for title tag. You should not use it anywhere in between article. It is enough for just title of your post. You can use H2 for Topics and H3 for sub-topics of your article.
Also remember, don't use too much H2 or H3 tags in one article at unnecessary places because Google's Algorithm won't like it.
5. Write click-worthy meta descriptions for each page
Meta description are one of the most effective way to drive user to your website through search result. Because Meta description are visible part next to Meta title.
If you want to drive traffic on your blog efficiently then make sure Meta description of your page must be attractive and informative. It should catch into user's eye within 150 word limit.
Your Meta description should contain targeted keyword. But don't use it much more time that it looks spammy description.
Google has clearly declared that they don't consider Meta description for ranking but some other search engine like Bing and yahoo still takes care of it. So in that way it is beneficial.
6. Image optimization
Image optimization helps to drive traffic from image search from different search engine.
The keywords you have used in "Image Title" and "alt text" will help you to make your article more focused and targeted to the topic.
Relevant images in your post makes a deep understanding between content and explanation. So basically it creates user engagement. And that will increase your trust score.
But remember more images will slow down your site. And if your site speed will be low then it will decrease your google rank. So it is important to load images faster, and you can do it with 3 ways.
7. Internal Linking
Internal linking means to create links of related blog post inside your blog post.
Interlinking helps user on your site to spend more time on reading related topics on your blog. It have many advantages which are covered in detailed in this post.
While interlinking your post you should try to use your targeted keyword as anchor text. But be careful while doing it. Because if you have created same anchor text with different links then google will consider first link of the page and skips second one. So take care about this policy.
Make sure the content which you have interlinked are relevant and necessary. Otherwise post will look spammy and it will disturb crawler and user both.
8. Keyword Density

Including relevant and targeted keyword to your post is very important. Because it helps search engine to understand the actual topic of your post and you can get better rank for that particular keyword.
But try to add keyword limited time in your post. If you will overuse keyword then search engine crawler will mark your website as spam and your website could be banned from search engine.
You should keep your keyword density around 1.5%-3% with mix of related keyword or search terms.
You should add keyword once in first paragraph of your post and last paragraph of your post and you can use it in middle content where it makes sense.
9. Write Engaging Content
Your content must be engaging for users. So that user enjoys reading your article. If you are trying to copy from another site or use Article Spinner for your post then it probably creates bad impression in user's mind. So basically your blog can not rank for long time with these search engine tricks.
If you want to rank higher for long time then your content must be unique and engaging. Your content should be complete manual for that targeted keyword or title. You have to engage your audience with art of writing. Try to asking question to your users and giving answers. Explain topics by real-life example or images if needed. Understand your audience. Know what they want to read. Basically write article in that way that your user assume that he/she is talking directly with you.
If you are unable to engage audience with your writing skill then people will not spend too much time on your website. And thus your bounce rate will increase and ranking will decrease.
10. Ensure your website speed is fast
Slower performance of your website creates bad impression on user's mind with first visit. And it also affect your ranking and SEO.
Google has confirmed in their official blog post long time back that they will consider site speed as ranking factor. Because fast loading website give better user experience and google always wants to serve better result to their result. So your site should load faster to get better ranking.
You can use AMP (accelerated mobile pages) plugin for wordpress to load your site quickly into mobile devices and there are other tips for making your site faster by removing unwanted CSS and Javascript. You should compress images to reduce their size or use CDN for better performance of your website.
If you are beginner in blogging then you can use Shared hosting from bluehost or hostgator. But when you get average traffic of 1 lakhs users per month then you should move to VPS like Squidix or Digital Ocean for better performance of your website.
Make sure you update your WordPress PHP version to 7.1 for speed boost.
Here is a handy & quick checklist for On-Page SEO
Keywords:
Put Keyword in title
Put keyword in permalink
Put keyword in Image name and alt tag
Put keyword within first 100 words
Put keyword in last paragraph
Put related keyword in body
Keep keyword density around 1.5% – 3%
Article:
Add Multimedia like Infographics, video, images, slides etc.
Create catchy Meta title of 65 characters.
Create effective Meta description within 150 characters.
Article should be minimum 500 words.
Content should be engaged and relevant.
Interlink other posts.
Create outbound links to other quality sites.
Optimize images before uploading.
Ask user to take action at end of post like (share it on social media, subscribe for email or comment their views about post)
Remove special characters, brackets, etc. from permalink
Add related featured image that drive user while sharing article in social media like Facebook, Twitter etc.
Put social sharing buttons at end of post and floating buttons at sidebar.
Put related post area after end of post to decrease bounce rate.
Things to take care of:
Don't use H1 tag more than 1 time in your post (preferable for title)
Don't use H2, H3, H4 tag too much time in single post.
Don't overuse Targeted keyword in body content
Here I have mentioned 10 Core On-Page SEO factors that will boost your ranking higher in search engines.
But mark my words: Try your best but you can't Trick Search Engine 🙂
Always Remember, if you want to rank higher in search engine then you must provide informative content which is helpful to users. Because if readers will love reading your article then search engine will love to rank your article.
If you have any other tips for optimizing blog posts then share them with us by comment down below. Happy Blogging…!