Dropbox has recently added 2-step verification process. Two-step verification adds an extra layer of protection to your account by requiring an additional security code that is sent to your phone by text message or generated using a mobile authenticator app.
Link to enable 2-step authentication for Dropbox: https://www.dropbox.com/account/security
Steps:
1) Go here to activate.
2) Enable Two-Step verification from Security Tab.

3) Click "Get Started".

4) Choose any of below options.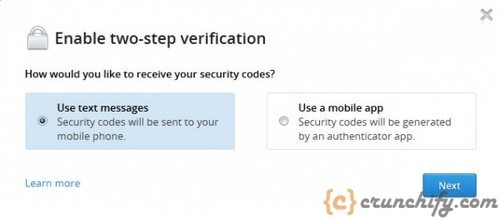 5) Use Google Authenticator App to get your code.
And you are all set.
Once 2-step authentication is enabled, go to Dropbox.com and download the latest installers for Dropbox (available for Windows, Mac and Linux).
There aren't any new features here except that these new software builds include support for signing-in through 2-step verification.