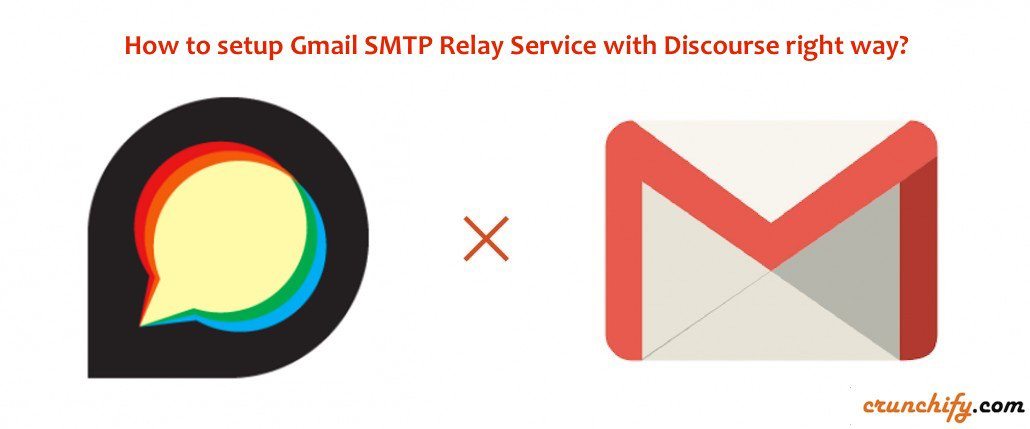 Sometime back we announce a new forum software for Crunchify readers and for our client. It's now open for all developers and bloggers if they want to get instant answers for any query they may have. I personally very fond of high knowledge rich forum.
Please visit https://ask.crunchify.com to get started. You do have options to login using Facebook, Twitter, Github or Gmail ID.
As you know Discourse is very popular forum software among all latest tech companies, we thought of giving a try. Also, it's open source.
Another must related read:
Discourse forum basic setup went perfectly fine. It was simple. I used Linode as our hosting service provider for our client. Linode comes with special Ubuntu 14.04 LTS image which was straight forward.
Once you install and setup Discourse on Linode, it's very important to have email service setup correctly. To be honest, it took me long time to figure out how to setup Google App's SMTP relay correct way in setting file discourse.conf.
In this tutorial we will go over detailed steps on how to setup email service correct way if you are google App users.
If you have any of below questions also then you are at right place.
Troubleshooting email on a new Discourse install
How do I change my SMTP settings (Discourse Docker Install)
Emails with local SMTP
How to edit e-mail settings for Discourse?
How To Install Discourse on Ubuntu 14.04
Can't send mail with gmail SMTP server (in discourse)
How to setup Google App SMTP relay service?
Step-1
Login to Google Admin Console
Step-2
Go to Apps
Setting for Gmail
Advance Settings
Search with text relay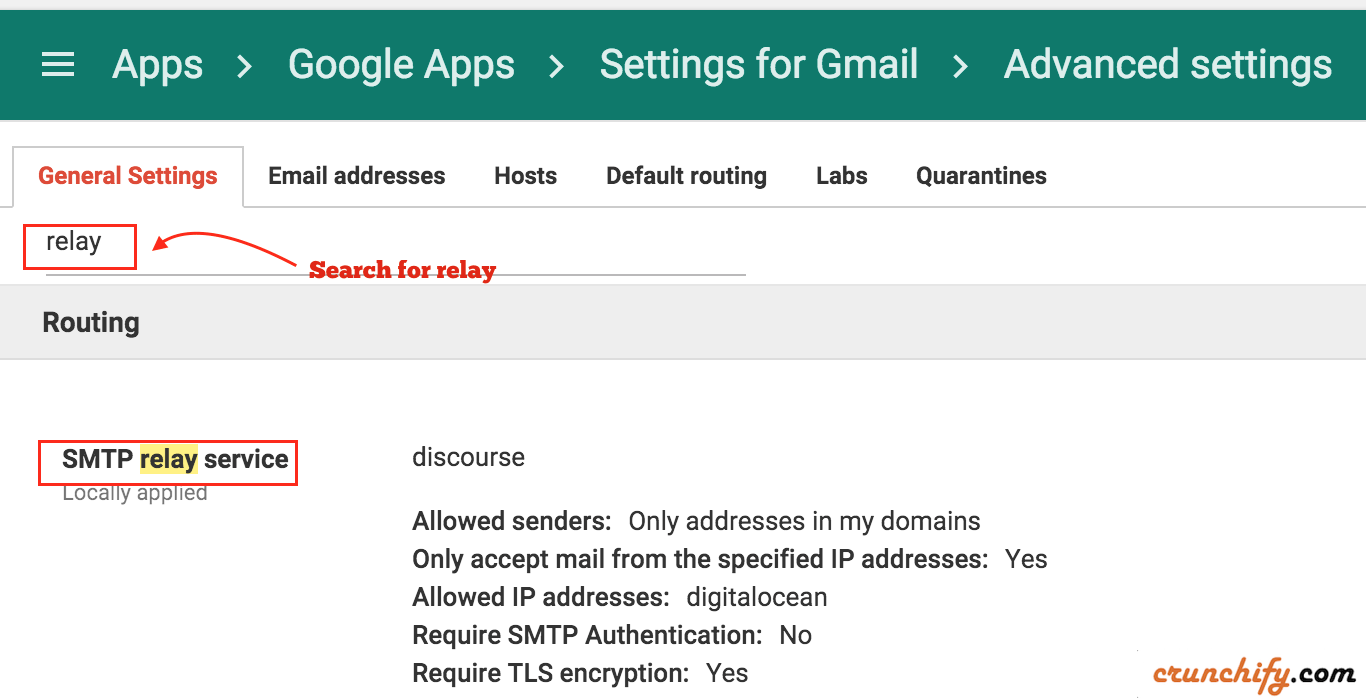 Step-3
Mouse hover and click on configure
Provide all details as you see in below image

Select Only addresses in my domains
Click check box for Only accept mail from the specified IP address
Provide your droplet/host IP address
Click check box for Required TLS encryption

Click on Save button to save settings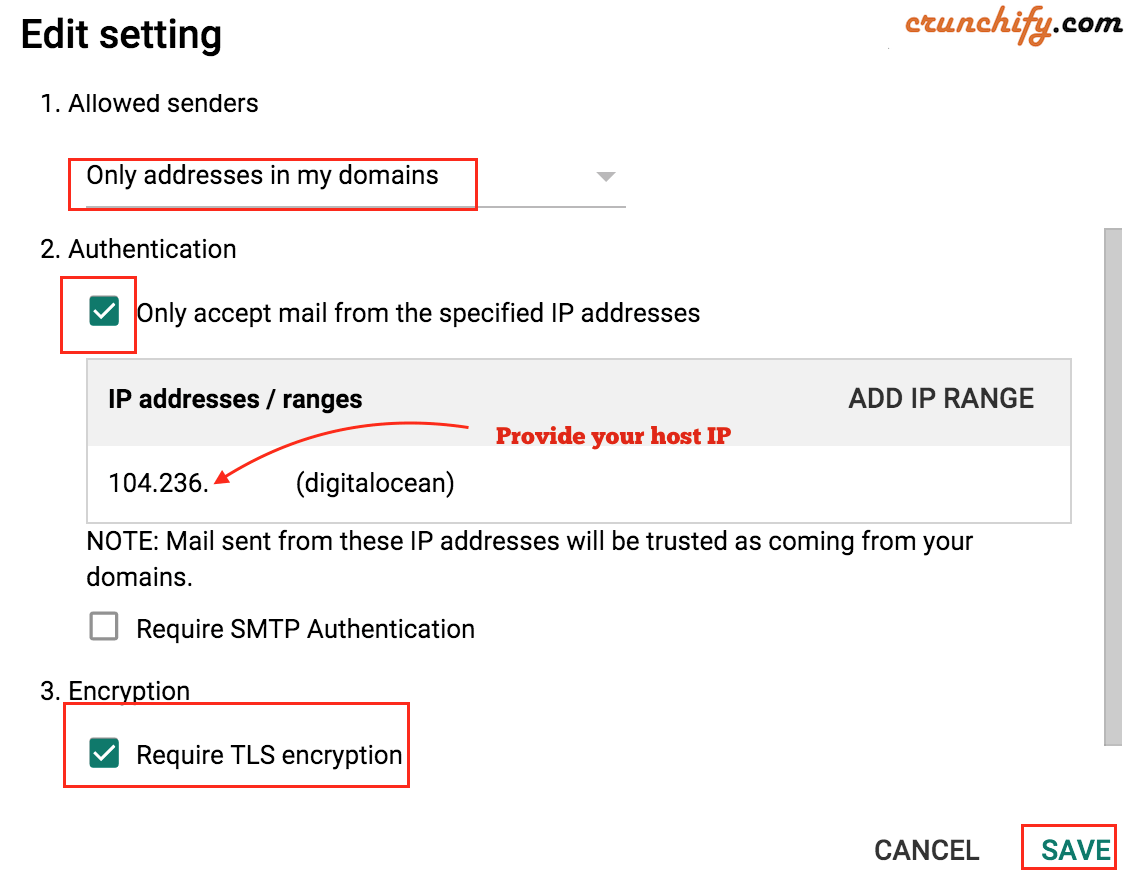 Step-4
Login to your host/droplet
Open discourse.conf file
Add below settings for email service

NOTE: keep username and password field empty
  DISCOURSE_DEVELOPER_EMAILS: 'contact@crunchify.com'

  ## TODO: The domain name this Discourse instance will respond to
  DISCOURSE_HOSTNAME: 'ask.crunchify.com'

  ## TODO: The mailserver this Discourse instance will use
  DISCOURSE_SMTP_ADDRESS: smtp-relay.gmail.com      
  DISCOURSE_SMTP_PORT: 587                        
  DISCOURSE_SMTP_USER_NAME:    
  DISCOURSE_SMTP_PASSWORD:     
  #DISCOURSE_SMTP_ENABLE_START_TLS: true
Step-5
Save your setting and initialize restart of your discourse application. Your email service should be configured correct way now.
Once logged in to your server follow below steps:
$ cd /var/discourse
$ vi containers/app.yml
$ git pull
$ ./launcher rebuild app
Enjoy and happy blogging.