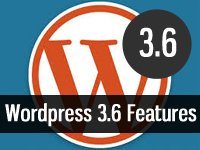 Some really neat features are going to be included in WordPress 3.6, which is rolling out this spring. Here's a quick peek at the road ahead (but know that everything listed here is tentative, as it is still under development):
1) Overview:
The focus of WordPress 3.6 is "Content Editing," paying special attention to editorial workflows, revisions, autosave, editing, and post formats.
2) Autosave:
The goal of 3.6 is that users should never lose posts because of "expired cookies, loss of connection, inadvertent navigation, plugin or core errors on save, browser crashes, OS crashes, cats walking on keyboards, children drooling in keyboards, etc." This may include autosaving to the browser's local storage, and log-in expiration warnings. They are also looking at a post locking functionality to prevent people from overwriting each other's changes.

3) Editorial Flow:
The features to be added to 3.6 are custom post statuses, which is the ability to add custom statuses like pitch, assigned, in-progress, etc., and draft revisions, which allow edits to already published posts be saved as drafts before taking place of the original post. They are currently seeking use cases for both features to better understand how they will be used.
4) Revisions:
The revisions tool will get a little TLC — bug fixes, better user interface, and adding visual representation of what was added/removed in each revision.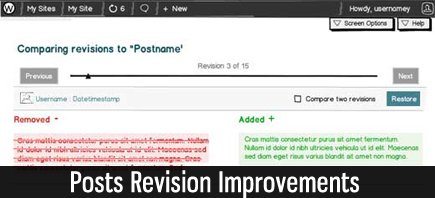 5) Post Formats:
The big update to Post Formats for 3.6 is the admin user interface. They are currently seeking wireframe ideas for the user interface for each post format (i.e. chat, quote, link, image, video).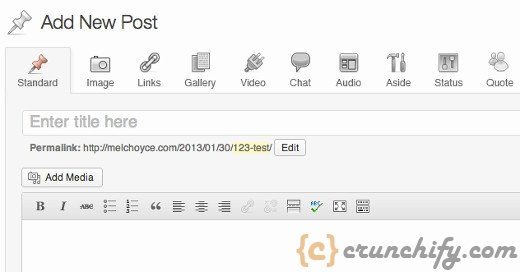 6) Custom Menus:
The main focus for 3.6 will be improving the user interface for custom menus, which users have found confusing.
WordPress 3.6 Release Schedule:
January 02-09, 2013
Confirm proposed scope and secure team leads.
January 09, 2013
Development begins.
March 27, 2013
Hard freeze on feature development. Stop feature development; focus on testing and compatibility (supported platforms, browsers, RTL, accessibility, etc). Ship a Beta 1.
From this point on, no more commits for any new enhancements or feature requests in this release cycle, only bug fixes. Any enhancements/feature requests not completed and committed by this point will be punted to future. Please don't get angry and complain when this happens; it's necessary to get us to an on-time release. You can keep working on your pet ticket and have it ready for early 3.7.
April 03, 2013
Beta 2
April 10, 2013
Beta 3
April 17, 2013
Release Candidate 1 target date. String freeze. Any work is focused on regressions and blockers only.
April 24, 2013
Release Candidate 2
April 29, 2013
Target date for WordPress 3.6 launch.