And finally after long wait, Good news, WordPress 3.6 have finally landed. It is named Oscar after the jazz pianist Oscar Peterson.
Oscar includes better autosave and post locking, native support for audio and video embeds via an HTML5 media player, as well as improved integrations with Spotify, Rdio, and SoundCloud.
The newly added user features are as follows:
The new Twenty Thirteen theme puts focus on your content with a colorful, single-column design made for media-rich blogging.
Revamped Revisions save every change and the new interface allows you to scroll easily through changes to see line-by-line who changed what and when.
Post Locking and Augmented Autosave will especially be a boon to sites where more than a single author is working on a post. Each author now has their own autosave stream, which stores things locally as well as on the server (much harder to lose something) and there's an interface for taking over editing of a post.
Built-in HTML5 media player for native audio and video embeds with no reliance on external services.
The Menu Editor is now much easier to understand and use.
Colorful New Theme:
The new WordPress default theme puts focus on your content with a colorful, single-column design made for media-rich blogging.
Inspired by modern art, Twenty Thirteen features quirky details, beautiful typography, and bold, high-contrast colors — all with a flexible layout that looks great on any device, big or small.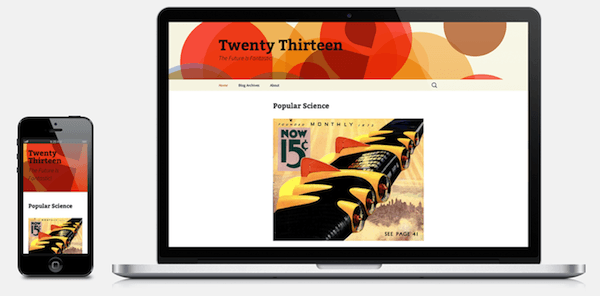 Explore Revisions:
From the first word you write, WordPress saves every change. Each revision is always at your fingertips. Text is highlighted as you scroll through revisions at lightning speed, so you can see what changes have been made along the way.
It's easy to compare two revisions from any point in time, and to restore a revision and go back to writing. Now you can be confident that no mistake is permanent.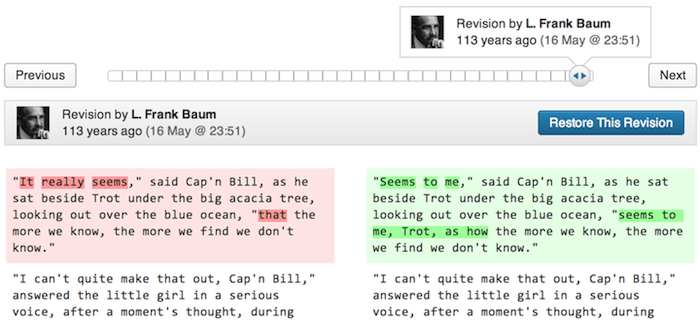 Improved Autosaves:
Never lose a word you've written. Autosaving is now even better; whether your power goes out, your browser crashes, or you lose your internet connection, your content is safe.
Better Post Locking:
Always know who's editing with live updates that appear in the list of posts. And if someone leaves for lunch with a post open, you can take over where they left off.
New Media Player:
Share your audio and video with the new built-in HTML5 media player. Upload files using the media manager and embed them in your posts.
Embed Music from Spotify, Rdio, and SoundCloud
Embed songs and albums from your favorite artists, or playlists you've mixed yourself. It's as simple as pasting a URL into a post on its own line.
This was just the summary of the new features coming in WordPress 3.6. There are many other changes, bug fixes and other updates. It is a major release so we would like to remind our users to upgrade as soon as possible. Make sure you backup your site before upgrading.