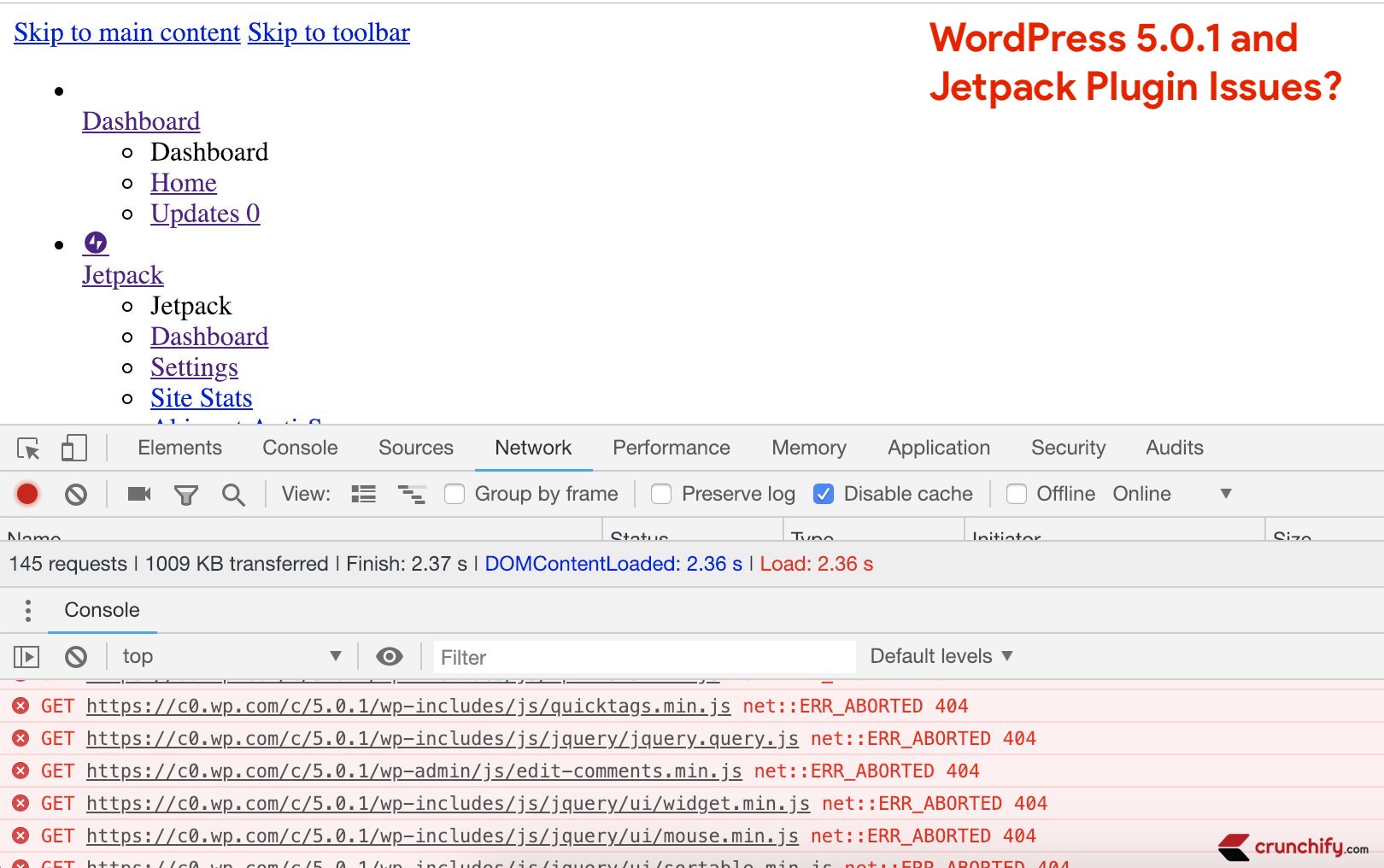 WordPress 5.0.1 just released today.
It's all about Security patches. It's an automatic update and hence you don't have to update your site manually but in the backend WordPress site will be upgraded to version 5.0.1 🙂 .
After upgrade, WordPress sends an automated message with all details.

After receiving an email I immediately went to WordPress Dashboard but it wasn't loading properly. Few initial time it was failed to load and later it was loading but without any JavaScript and CSS file loading.
As you see in above image, it was throwing 404 File Not Found errors for each and every files. As you noticed domain name c0.wp.com it was coming from JetPack's plugin.
In my Jetpack's Performance & Speed setting page I've enabled Speed up static file load times option.

It seems, WordPress CDN was missing all of these files on their server or may be it's was being replicated to all servers.
Solution: In order to overcome this error I went ahead and disabled JetPack plugin and WordPress Admin Console Error Issue resolved.
Great to see an update so quickly. Somehow my 3 sites are updated with #WordPress5.0.1 & admin console doesn't load at all.

So many 404 errors. Then disabled #JetPack and issue resolved. Seems all basic admin console static files are missing on https://t.co/Q4EDNefKvc domain. pic.twitter.com/tbF5W21WT4

— App Shah (@app_shah) December 13, 2018
I also posted the same message on WordPress twitter channel. I believe I'll try to reactivate Jetpack plugin in few hours and hopefully this issue should be resolved by now.
Also, WordPress 5.0.1 has some backwards compatibility changes which may break some of the plugins. Kindly take a look at detailed article.