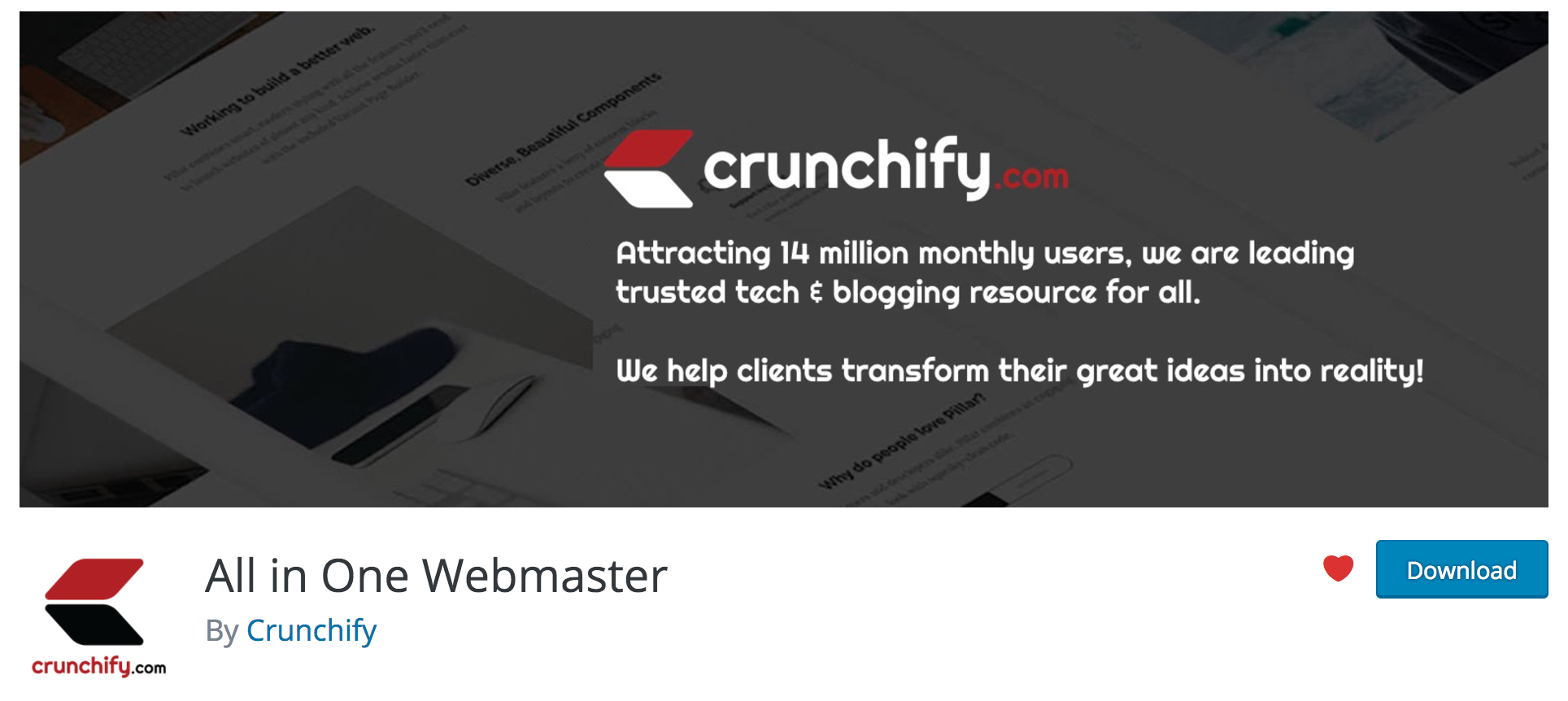 We are very happy to announce All in One Webmaster Premium Plugin. We have been working very hard to release this Premium release since last month.
If you already know about the word SEO then you probably know about such webmasters tools like Google, Bing, and Yahoo. These tools help us to rank well in search engines just by getting a copy of our blog sitemap there in webmaster central. Doing this, the robots of these biggest search engines sit in our blog database and whenever a new is published there in our blogs these robots knock the search engines about the new posts and get our posts indexed.
This is very simple plugin with better navigation and usability. It adds your requested meta tags into header and java script code to footer of your blog. This plugin allows you to easily integrate them with your blog. It has option to add Google, Bing, Alexa, Placed Analytics, Blog Catalog, Yahoo's Webmaster and Analytics code (meat tags). Single click sitemap submission to Google and Bing. In addition to that it has option to add tracking code for Clicky, Quantcast, Compete.com, SiteMeter.com analytics!! Site-Verification-Option, Google XML sitemap submission. There are more to come in next releases.
Benefits?
Brand new dedicated plugin menu
No Advertisement
Facebook page insights, admin insights, app insights options
Google Authorship Options
Header / Footer Section
Misc Options – Add Global Site Favicon Option
There are lot more to come.. this is just an initial release of Premium Version
Just one time purchase and life time upgrade option. Upgrade to Premium.
Lot more coming… Feel out this form with your new feature wish.
Brand new WordPress Menu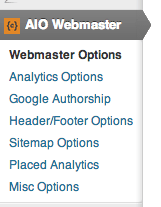 Brand new WordPress Menu bar with Webmaster Options, Analytics Options, Google Authorship, Header/Footer Options, Sitemap Options, Places Analytics,
Webmaster Module: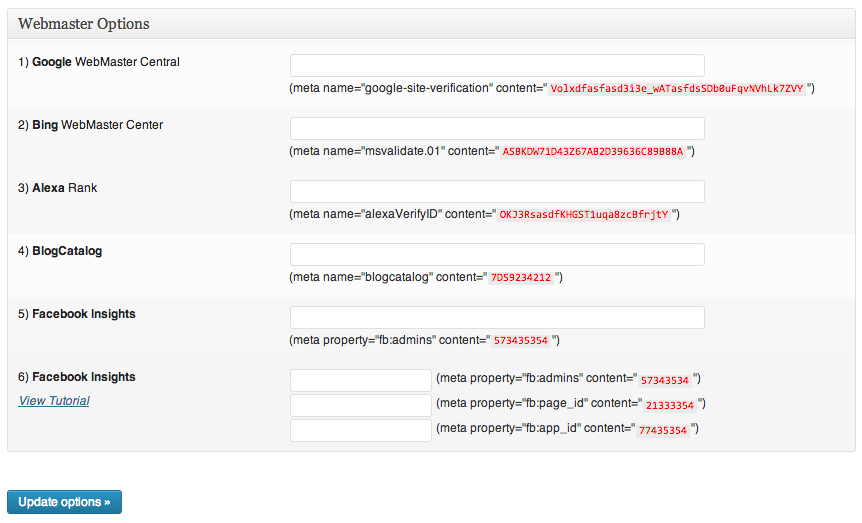 This section let you add Meta Tag for Google Webmaster Tools, Bing Webmaster Central, Alexa Rank, BlogCatalog Analytics, Facebook Insights.
Analytics Module: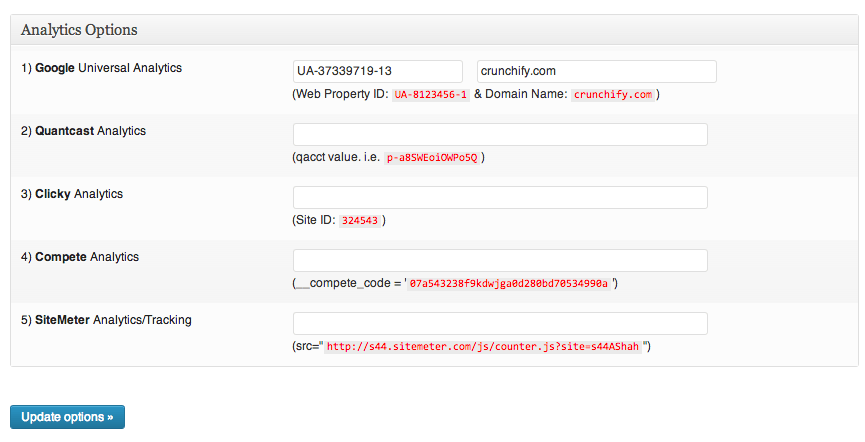 This section adds Meta Tags / Required Scripts Automatically to your WordPress Blog's for Google Universal Analytics, Quantcast Analytics, Clicky Analytics, Compete Analytics, Sitemeter Analytics. You don't have to worry about putting these script to your theme again and again in case you change your theme.
Google Authorship Module:

This section adds Google Authorship Profile and Google Authorship Page Meta tag to your WordPress blog automatically. Again you do not need to worry if you change your theme again.
Header/Footer Module: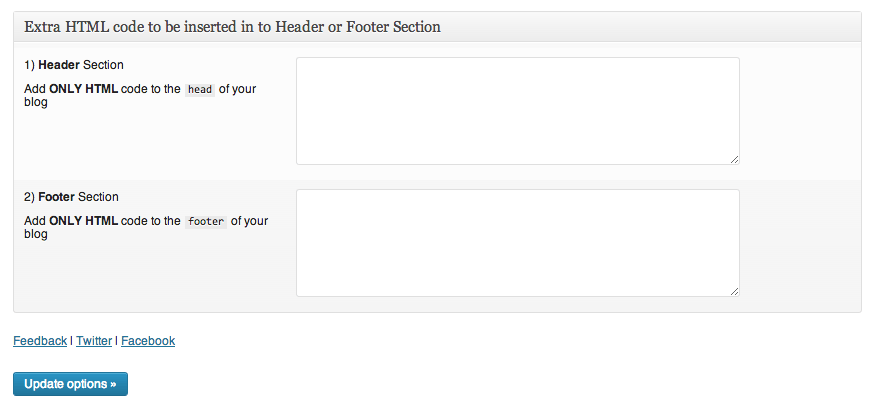 This Header and Footer Section from All in One Webmaster Premium lets you to insert whatever you need in to the head and the footer parts of each blog page and before and after the content of posts.
Sitemap Submission to Google-Bing Module:

The first step to getting your site online and to get better rankings in Google is to submit your URL to search engines. An example of an URL is www.yoursite.com. Eventually the search engines will find your site but this will help expedite the process. This section will let you submit your sitemap explicitly to Google and Bing.
Placed Analytics Module:

Placed is Location Analytics. By connecting the physical and digital worlds, Placed is creating a new class of analytics focused on location. Placed Analytics, a free service, anonymously measures, aggregates, and analyzes the paths and places people visit in the physical world.
Misc Module:

A favicon (short for favorites icon), also known as a shortcut icon, website icon, URL icon, or bookmark icon is a 16×16 or 32×32 px in size. Just provide a URL of your favicon and plugin will do the rest of the work.
Use Promotional code "AIOW25" to get 25% discount. Offer ends on 08/15/13 23:59:59.
This is just a beginning. Throw us your idea on what you want in next version of All in One Webmaster Premium?