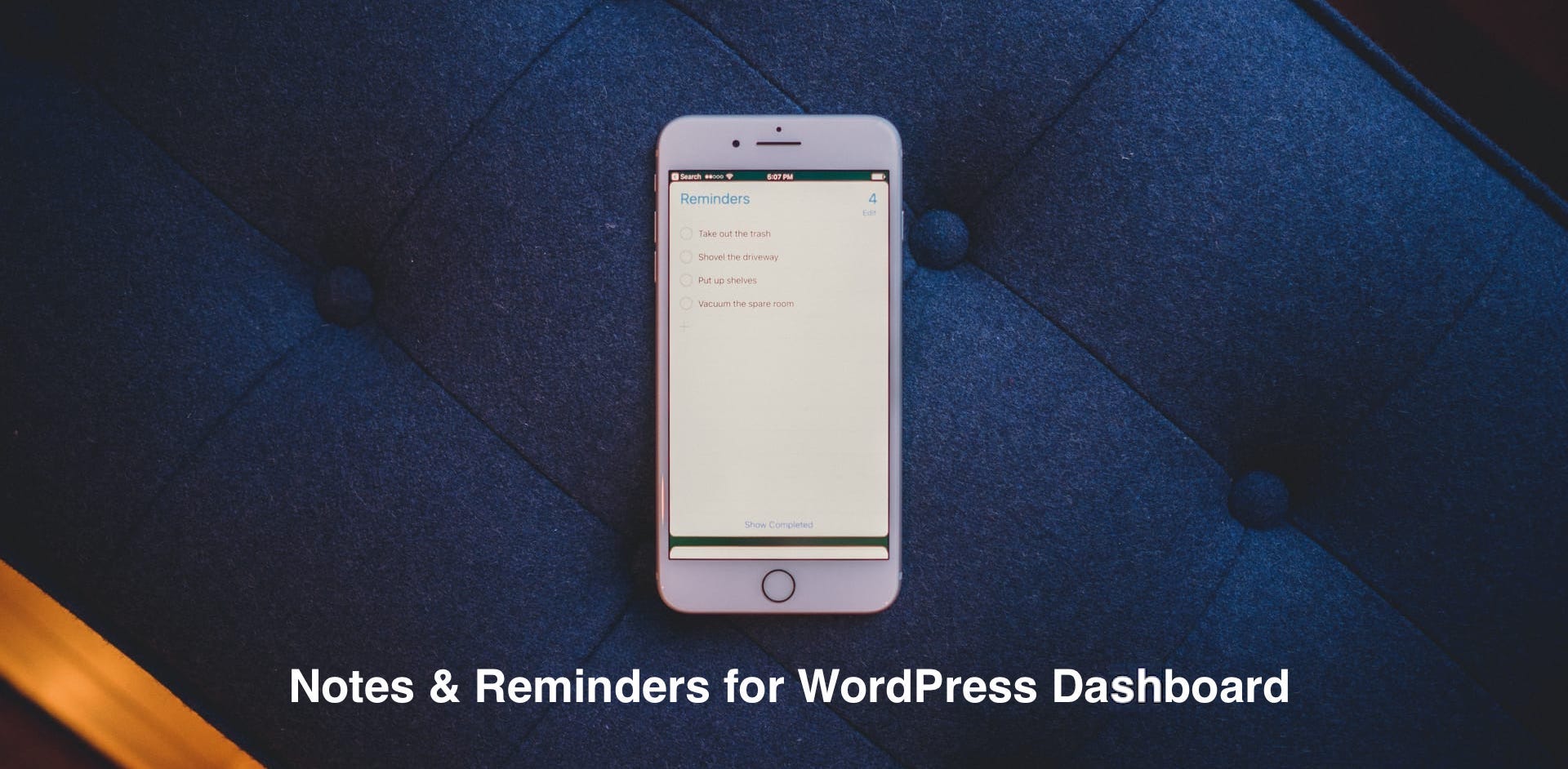 Every Bloggers / Writers have schedule for their work like article writing, SEO analysis, link building, content planning, WordPress Customization and much more. Isn't it?
Well, there are so many note taking applications available out there. Some of my very popular app includes Microsoft OneNote, Evernote and Google Keep.
Even though we setup pre-scheduled tasks properly, sometimes we simply miss it.
To solve that problem we usually keep our notes on laptop screen or on our work desk. If you are WordPress Developer, Content Writer, Author or Auditor then I would say, the most effective way to keep your personal instruction in your mind is to add all notes to Wordpress dashboard.
In this post I will share some of plugins to add Notes, Reminders and Instructions to your WordPress dashboard simple way.
1. WP Dashboard Notes
First of all we will take a look at the WP Dashboard Notes. This is a free plugin which is used to post instructions in WordPress dashboard. You can restrict the visibility of the notes to just for you, or made available to all of the registered users of your blog. 

if  you are working alone, working from home or managing a multi-author blog, Then it is beneficial to stick virtual notes to the WordPress dashboard area.
It can be a good way to share important instructions to authors, and store your ideas and reminders for your work.
2. Dashboard Notepad

This plugin hasn't been updated for long time, but it still seems to work fine. The main difference between this plugin and others is that it can be displayed on all of the admin pages of your website, and not just the dashboard.
So, If you want to give an important message to all logged in users on your website to see, WordPress Admin Notepad does give you the feature to display your message everywhere on the back end of your site.
It will not post message on front of your blog. In addition to this you could also choose which user roles can see and edit the Message and its contents.
3. WP Noteup

WP Noteup is a new plugin that allows you to add notes to the WordPress post editor screen sidebar.
The notes will only available when the post are being created. This feature makes WP Noteup a good choice for making a post or any instruction you want to include in your post, that will be visible as you write it.
4. Dashboard Site Notes (Plugin deprecated)
Download Link.
Dashboard Site Notes is also a plugin that hasn't been updated for a long-time. But, it stills looks to be working without any kind of problem.

You just need to activate a plugin, then you can start creating multiple site notes. The site notes are created using the WordPress post editor, it make the process of making notes very familiar with WordPress interface.
Each note have its own visibility settings. The options for where and how each note is displayed includes which admin pages to show it, and which user roles can view them. It has all the features regarding visibility control to user role control.
Notes can also be inserted into posts and pages using shortcode.
If you have created notes on website, then it can be compiled into one set of instructions to author or contributor. Another great feature is the ability to display certain notes on specific admin pages.
It helps to make Dashboard Site Notes a good choice for adding instructions for clients and other users on website.
Conclusion
WP Dashboard Notes plugin is all in one plugin for creating notes and also in terms of the design and appearance of the notes.
If you do want display your notes in more than one location then one of the other options might be a better choice.
If you want to add personal reminders, instructions for your co-authors, or information for clients to their website after handing over, you should use a notes plugin is an easy way to keep everything organized in one place.
If you have used this type of plugin then DO share your experience with us in comment section and share your ideas and new features that should be added into this type of plugins.