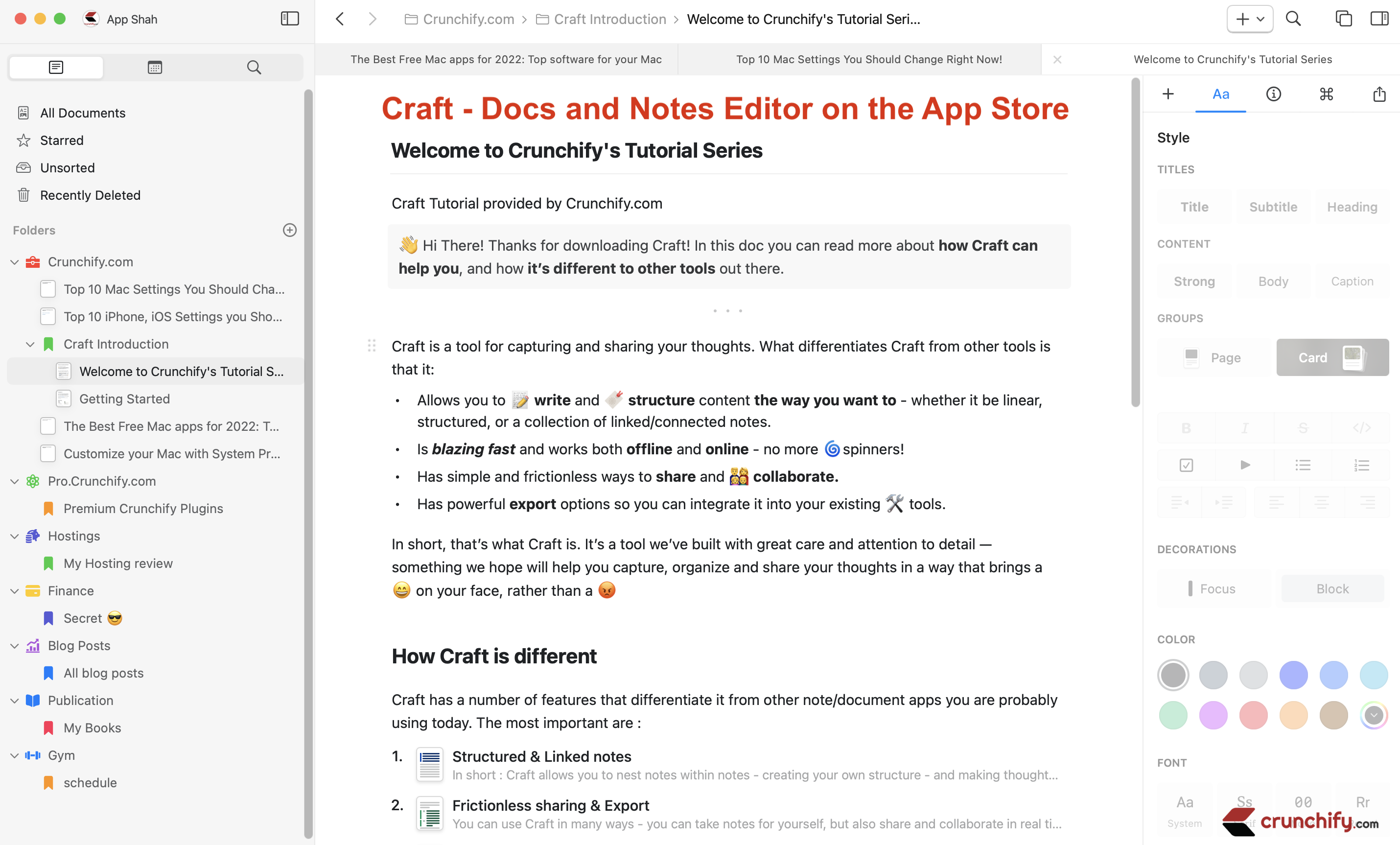 It's no wonder, there is so much competition in the market for the best note taking application. It's definitely a Notion or Evernote alternative.
Let me start by saying this. As a Mac user, I have been using Apple Notes for so long and it simply worked for me. It started with my simple note taking app but over the time, I was like compromising on so many functionalities daily.
Rather going through missing points in Apple Note, let's go over Craft which I started using since last week and it's awesome so far.
If you have any of below points then you are at right place:
Craft: A Next-Generation Note-Taking App
The New Craft App Does More Than Keep Notes
Craft – The Best Notes App for the Apple Ecosystem
Using Craft Notes for Study and Preserving Long-Term Docs
Craft – Docs and Notes Editor on the App Store
Craft: A Next-Generation Note-Taking App
What is Craft Note taking app? Is it Notion alternative?
Craft is super simple, fast, native to iOS and MacOS note taking app. It's also Mac App of the year 2021. You can create very nice structured notes and link it together with simple annotation. It's secure, reliable and very simple to use with blocks.
It's been a month I started using Craft and by far it's the best Note taking app I came across. I tried Notion for almost 6 months but I found it very complicated for my need.
Did Notion worked for me?
Well, not really. I tried really hard to setup templates and making it work but it seems I was spending more time creating flow, templates, database tables than writing more notes or documents 🙂
So nope, Notion didn't work for me.
Let's get started on the top features about Craft
Craft provides Quick Styling Options
Craft allows you to style your content right from the keyboard
CMD + for increasing text size
CMD – for increasing decreasing text size
CMD B for bold
CMD I for italic
TAB to increase indent, SHIFT TAB to decrease indent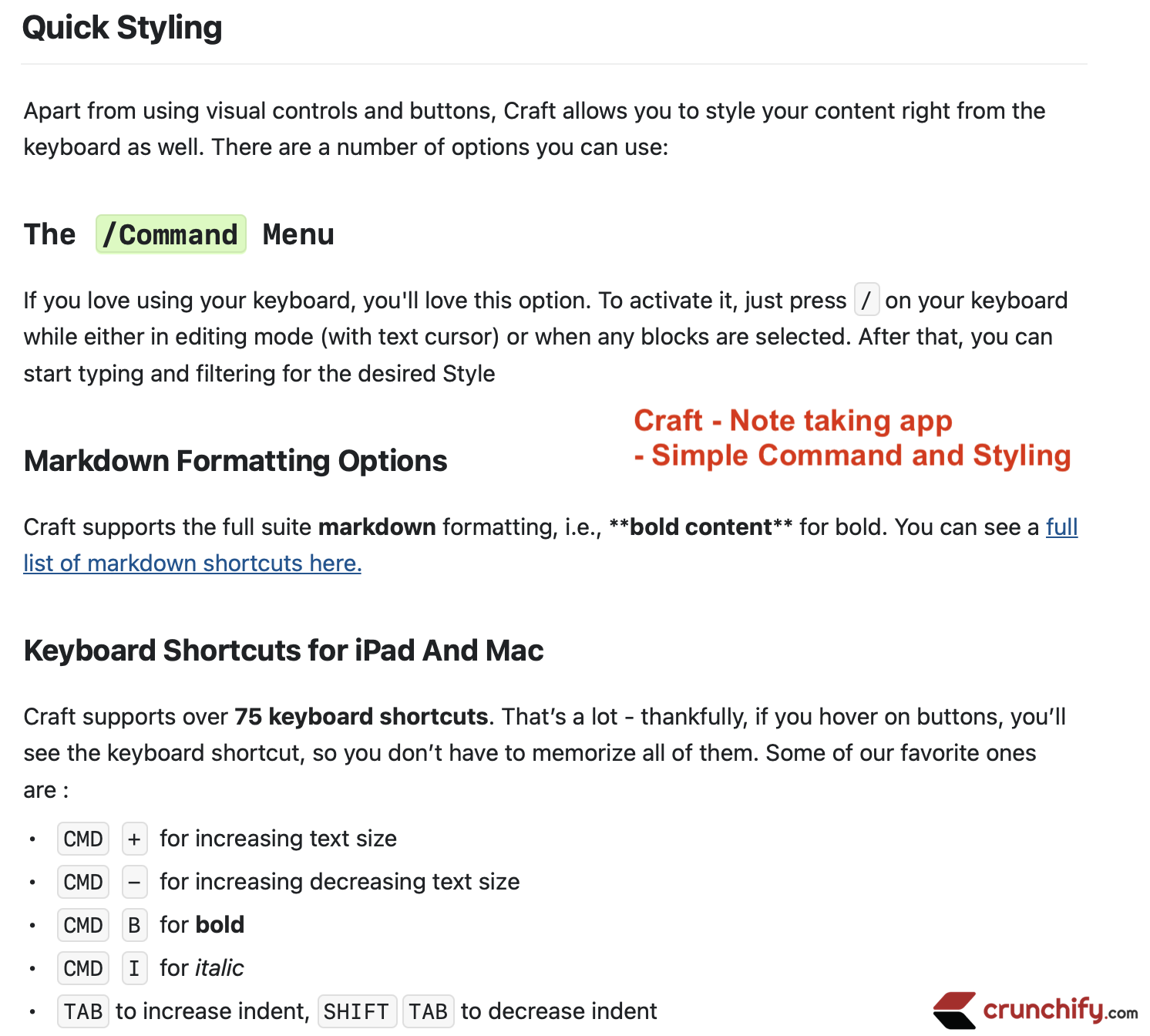 Craft provides options to store/sync Documents using iCloud
You could sync your all documents using iCloud, External third-party services or their default sync service.
At Crunchify, we are using iCloud sync service.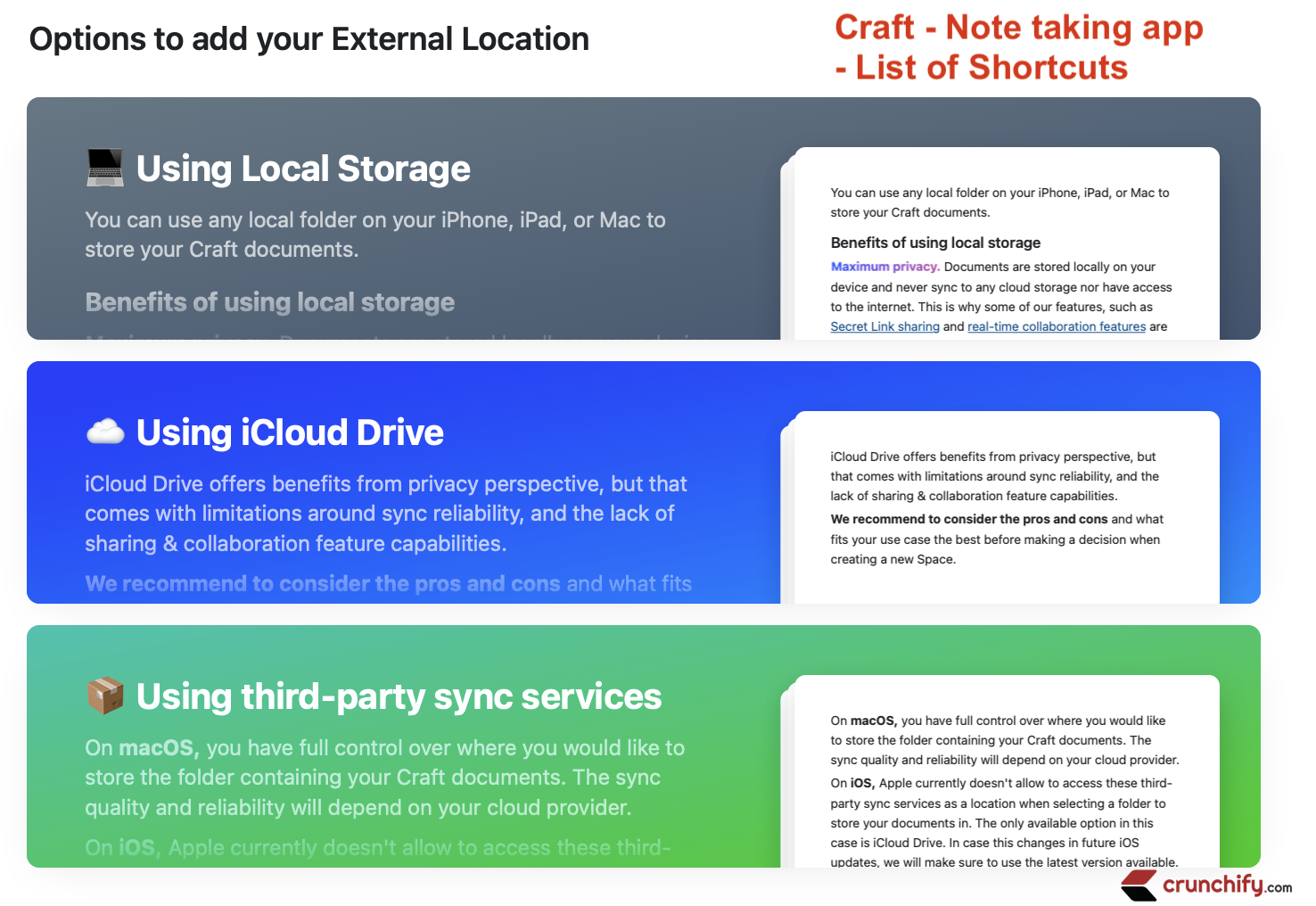 Craft provides you an option to write documents using Markdown
Craft has all Block Commands
# followed by a space to create a title
## followed by a space to create a subtitle
### followed by a space to create a heading
#### followed by a space to create a strong block
x or [] followed by a space to create an uncompleted todo
[x] followed by a space to create a completed todo
– or * followed by a space to create a bullet list
1., 2., 3., 4. etc. followed by a space to create a numbered list
+ followed by a space to create a toggle list
> or | followed by a space to create a block quote
"` or "' followed by a space to create a code block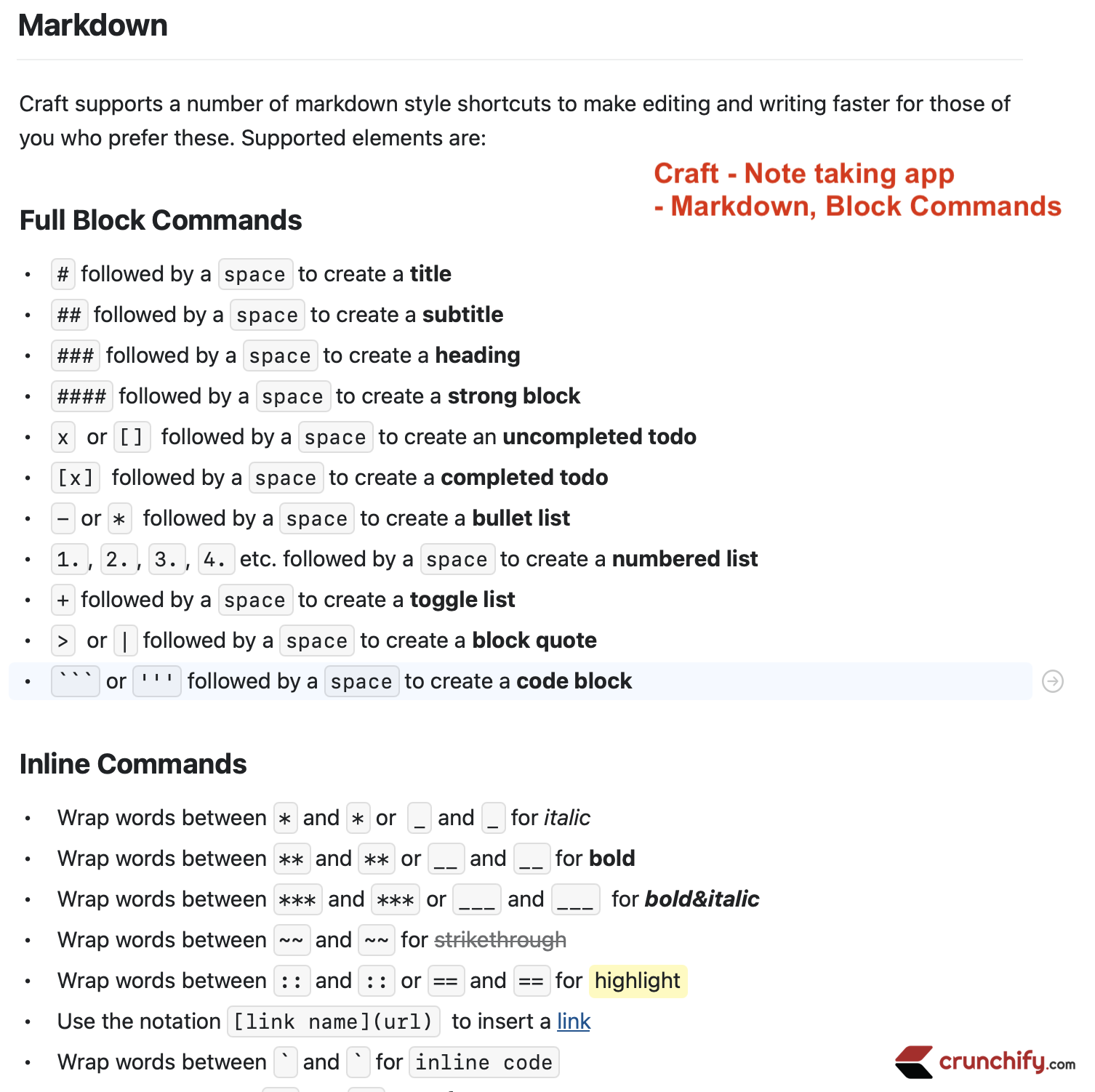 Pricing:
I'm on $44/year plan.
The full power of Craft, optimized for advanced personal usage.
50 GB of Storage
Advanced Export & Publishing Options
High-quality media upload
Collaborate with up to 5 users
Craft has beautiful Styling Blocks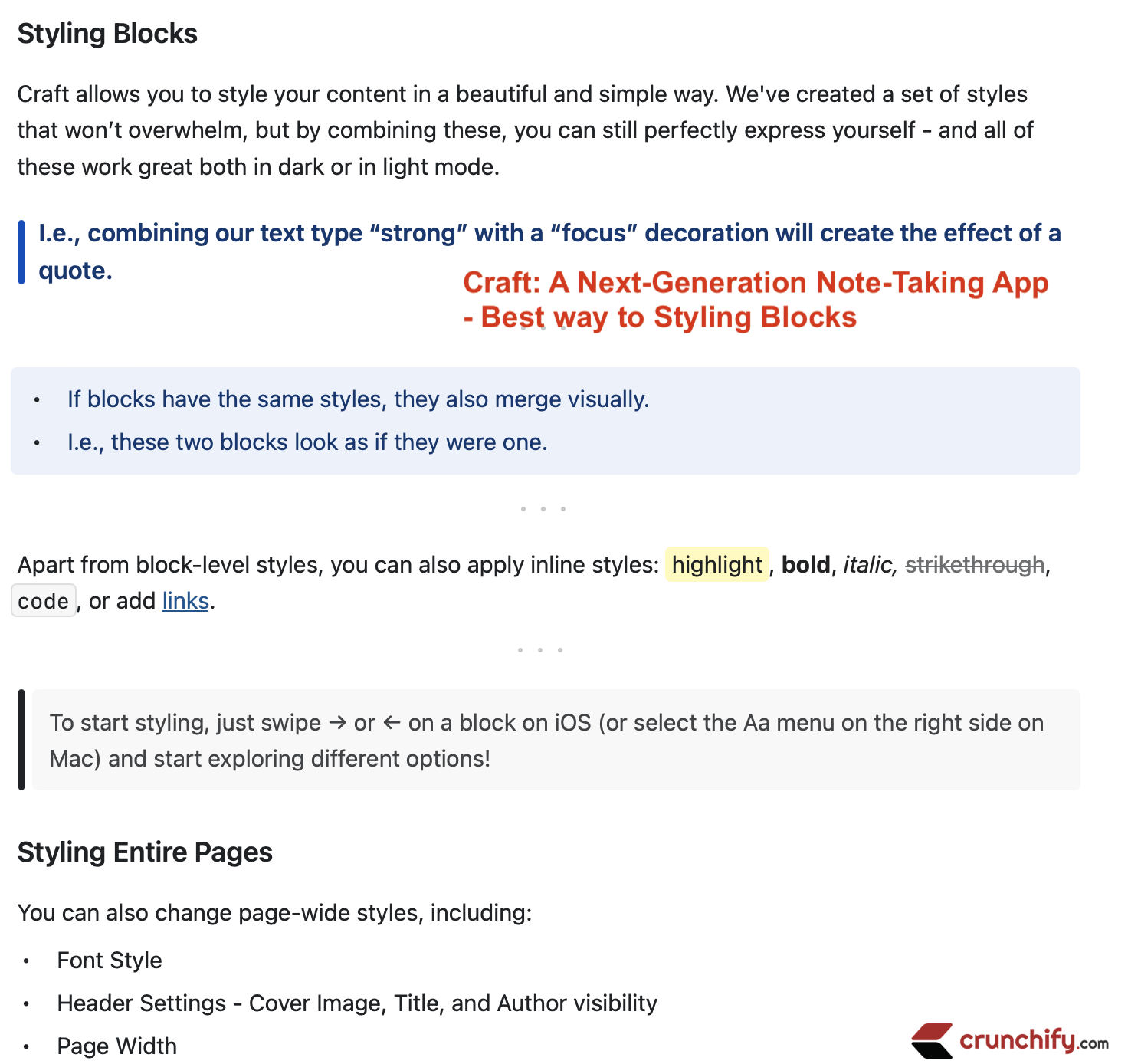 Craft makes it simple to add Code, Math Formula and Inline Equation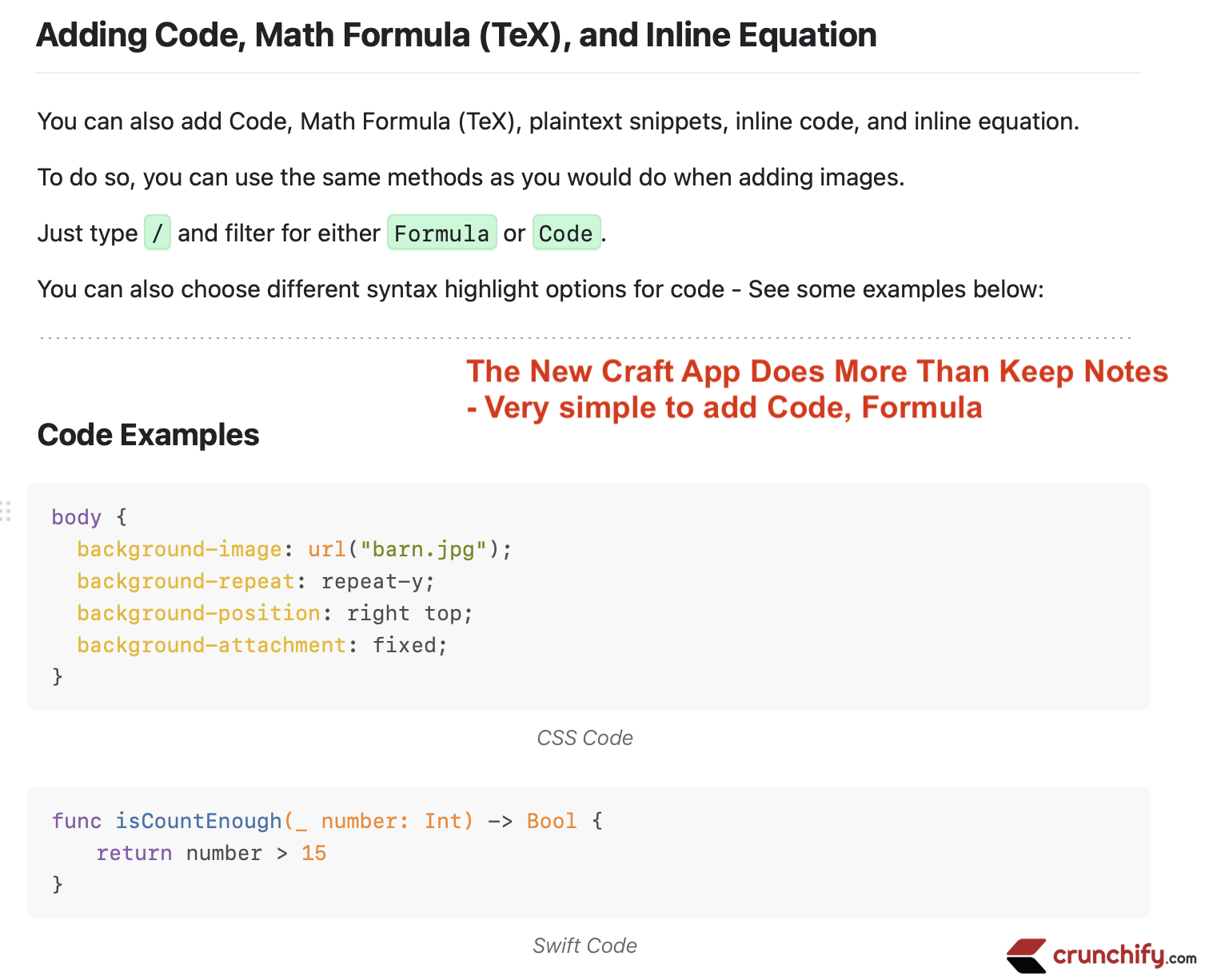 Craft comes with Daily calendar and notes integration
Daily Notes allows you to frictionlessly take quick notes, plan your day, add tasks or start a daily journal!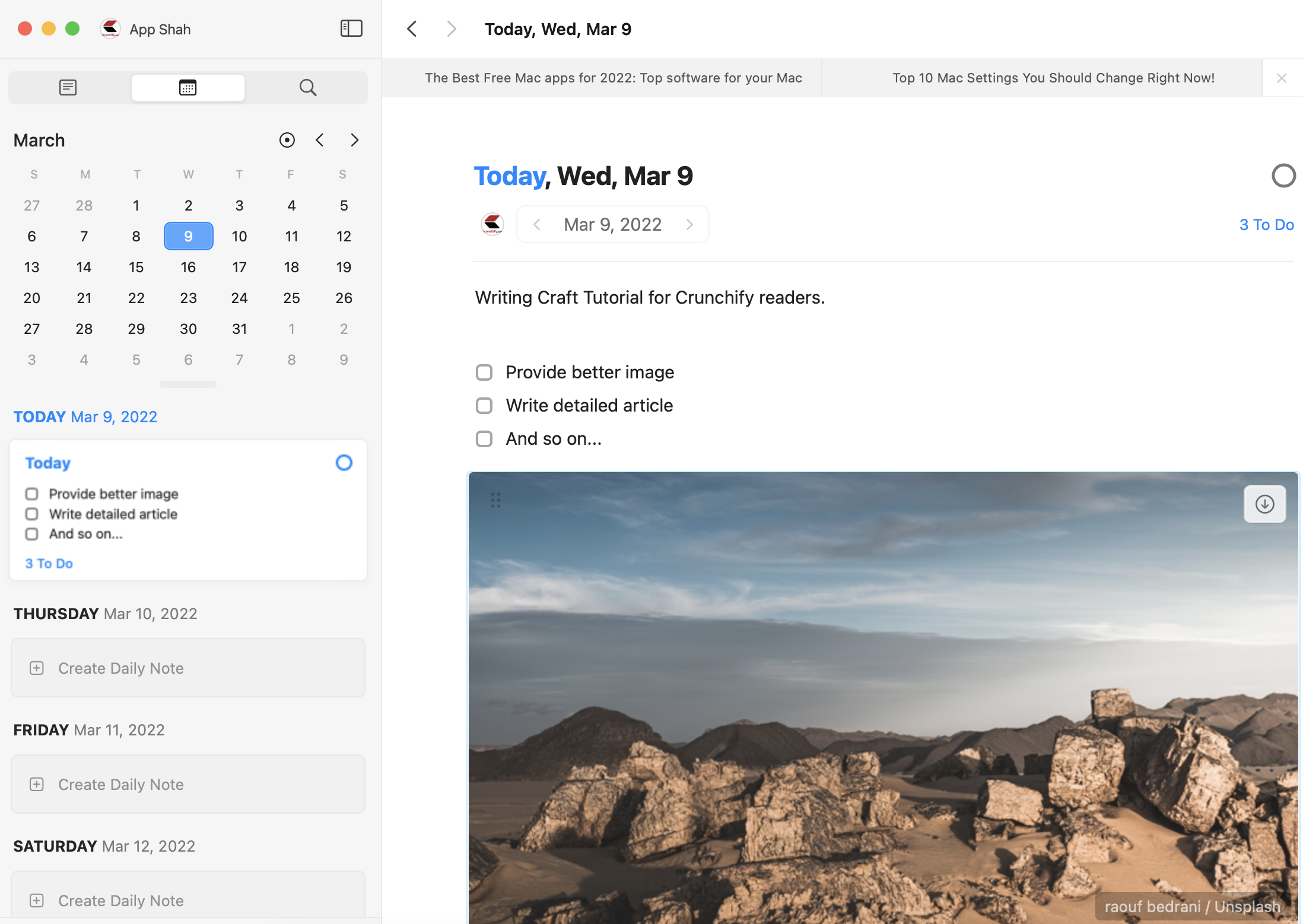 Craft makes it simple to add Images, Videos and Files
If you are in love with WordPress block editor then you feels it as home.
Just type / and you could add image, videos or files from Computer, Photo Library, Files and their own collection.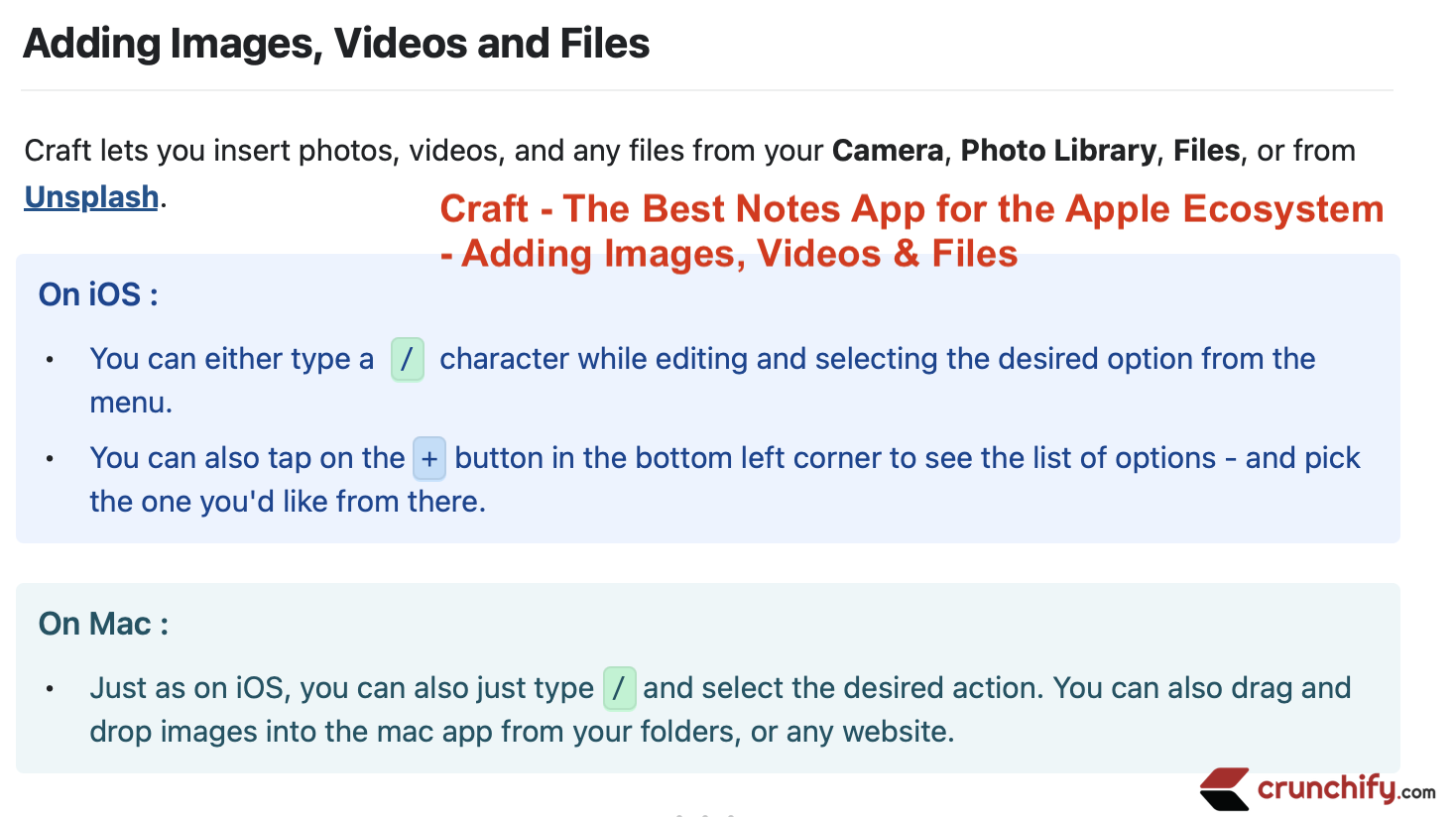 Craft comes with lots of Shortcuts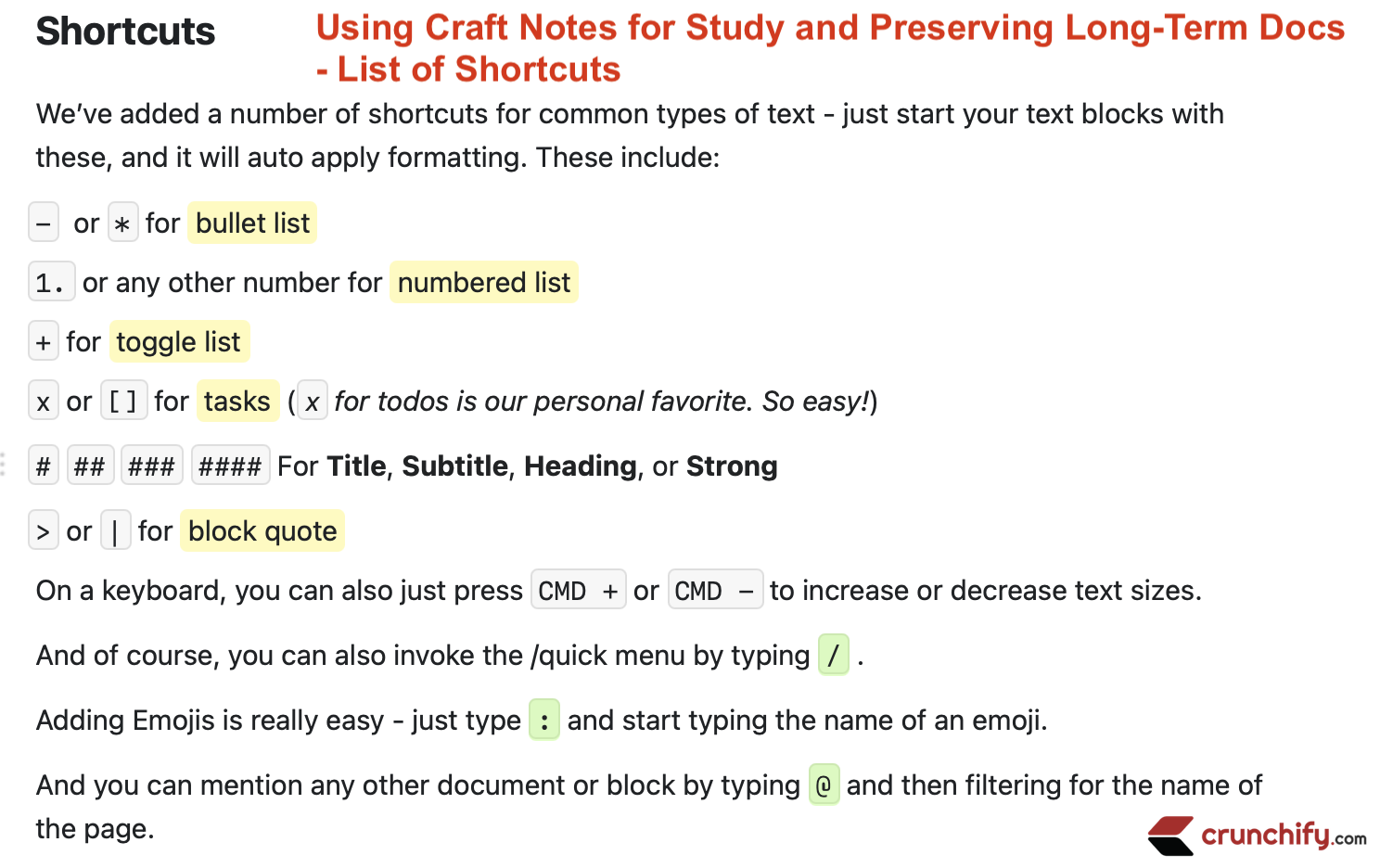 In Craft you can create Documents, Pages and Blocks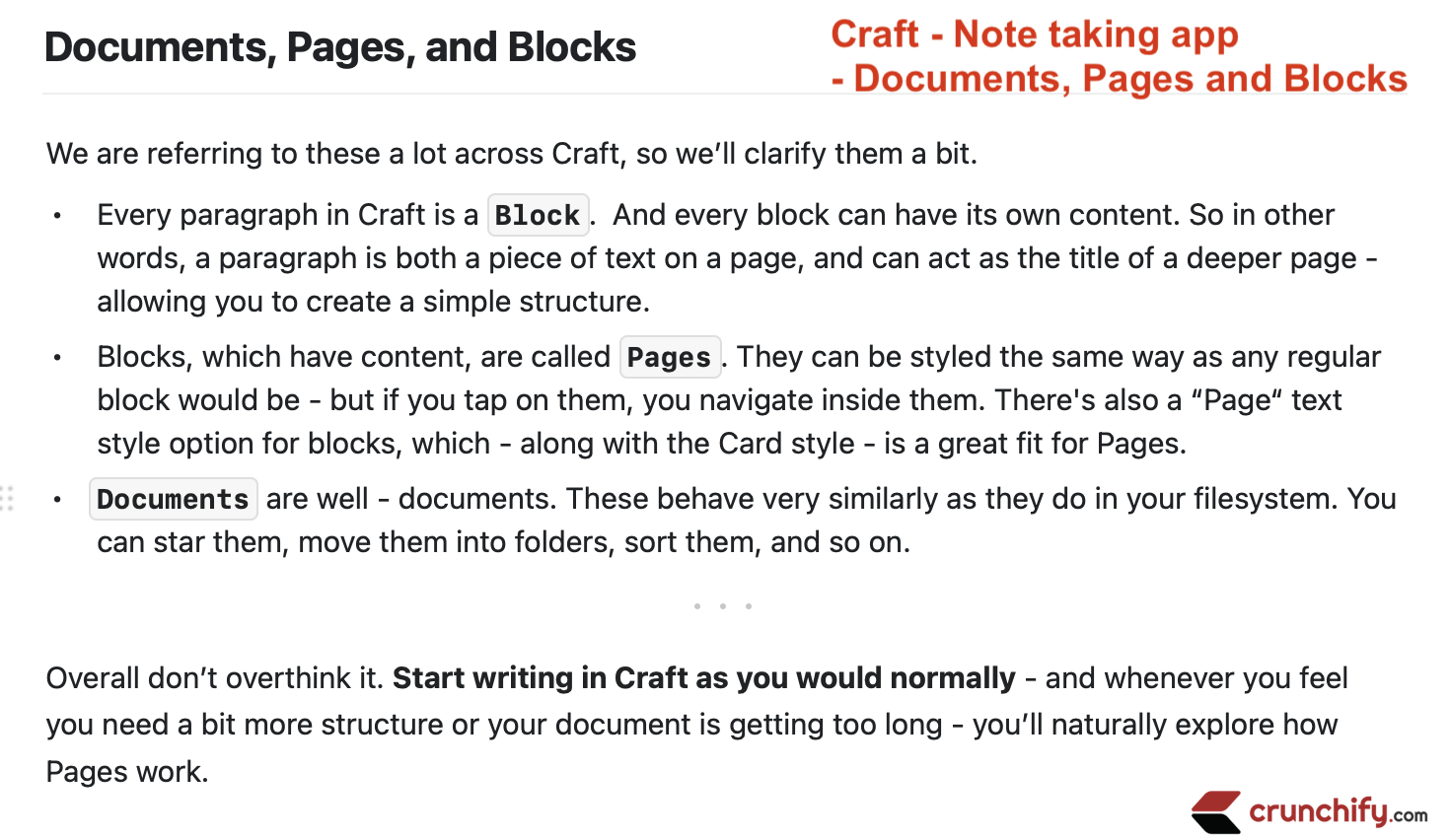 Final Verdict:
Without any doubt Craft is my favorite Note taking app which I use it everyday all the time. If you are a Mac user then without a doubt start using it. It's awesome.
Want to check list of all Craft Templates?
Checkout below article to find out all newly introduced Craft templates.