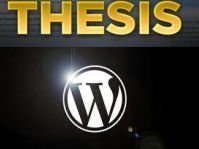 WordPress and Thesis are both popular content management systems (CMS) for building websites. They both have their own strengths and weaknesses, and the choice between the two often comes down to personal preference.
WordPress is a free and open-source platform that is widely used for building blogs, portfolios, and e-commerce websites. It is known for its user-friendly interface and large community of developers, who have created a vast number of plugins and themes that can be easily installed to add new features and improve the design of a website. This makes it very easy for people with little technical knowledge to set up a website and start publishing content.
Thesis, on the other hand, is a premium theme framework for WordPress that provides greater control over the design and functionality of a website. It is designed for more technical users who have a good understanding of HTML, CSS, and PHP. Thesis allows users to create custom templates and make changes to the underlying code, which provides greater flexibility and control over the look and feel of a website.
In conclusion, WordPress is the preferred choice for most people because of its ease of use and wide range of features, while Thesis is best suited for tech-savvy users who want more control over the design and functionality of their website. The battle between the two is over, with WordPress emerging as the clear winner.
WordPress's Matt and Thesis Personified controversy over Thesis GPL and this debate has taken lots of heat and created lots of buzz in WordPress community. From last few days people are taking about pros and cons of GPL licensing for WordPress Premium themes and this was becoming never ending debate.
Thesis Theme using a license other than GPL, which created a conflict between Thesis Theme creator Chis Pearson and Matt Mullenweg, of Automattic (the parent of WordPress.com). Finally today Pearsonified (Creator of Thesis theme) officially made an announcement that Thesis WordPress theme is now GPL compliant. To be more precise he added following tweets:
"Friends and lovers: Thesis now sports a split GPL license. Huzzah for harmony!"
"The PHP is GPLv2; CSS, JS, and images are proprietary."
They have also added a note about GPL licensing of Thesis WordPress theme in the official TOS page, which says:
Thesis General PHP License
The PHP code portions of Thesis are subject to the GNU General Public License, version 2. All images, cascading style sheets, and JavaScript elements are released under the Thesis Proprietary Use License below.
Thesis Proprietary Use License
The Thesis Proprietary Use License is a GPL compatible license that applies only to the images, cascading style sheets, and JavaScript files contained in Thesis. These elements are the copyrighted intellectual property of DIYthemes and cannot be redistributed or used in any fashion other than as provided in this Agreement.
Do share your views about whole GPL issues between Thesis (Premium WordPress theme) and WordPress?