Recovering a deleted Facebook page can be a bit challenging, but it is possible under certain circumstances.
Here's a general guide on what you can try:
Check Recently Deleted Pages:
Facebook introduced a Recently Deleted feature that allows you to recover deleted pages within a specific timeframe. To check if your page is recoverable through this feature:
Log in to your Facebook account.
Go to the "Pages" section from the left-hand menu.
Click on "More" and then select "Recently Deleted."
If your page is listed there, you may have the option to restore it.
Appeal to Facebook Support:
If your page isn't in the "Recently Deleted" section, you can try reaching out to Facebook Support. Keep in mind that Facebook doesn't guarantee page recovery, but it's worth a shot:
Log in to your Facebook account.
Visit the Facebook Help Center (https://www.facebook.com/help/).
Search for "Recover a Deleted Facebook Page" or a similar query.
Follow the provided steps or instructions for contacting support. This may involve submitting a request or form explaining your situation and the page you want to recover.
Contact Facebook Business Support:
If your page was a business page or had a significant following, you might have access to Facebook Business Support. This support channel is intended for businesses and advertisers and may provide more direct assistance in recovering a page.
Legal Action:
In some rare cases, if you believe your page was deleted erroneously or due to a mistake on Facebook's end, you might consider seeking legal counsel or taking legal action. This step should only be pursued if you believe you have a legitimate case and have exhausted other options.
Prevent Future Accidental Deletions:
To prevent future accidental deletions, consider implementing safeguards:
Assign multiple admins or roles to your page.
Set up two-factor authentication for your Facebook account.
Regularly back up your page's content and settings.
It's important to note that Facebook's policies and procedures can change over time.
Before proceeding, ensure you're familiar with the latest information available on Facebook's official help resources or support channels.
Additionally, exercise caution when sharing personal information or engaging in any communication related to account recovery.
Here are some steps: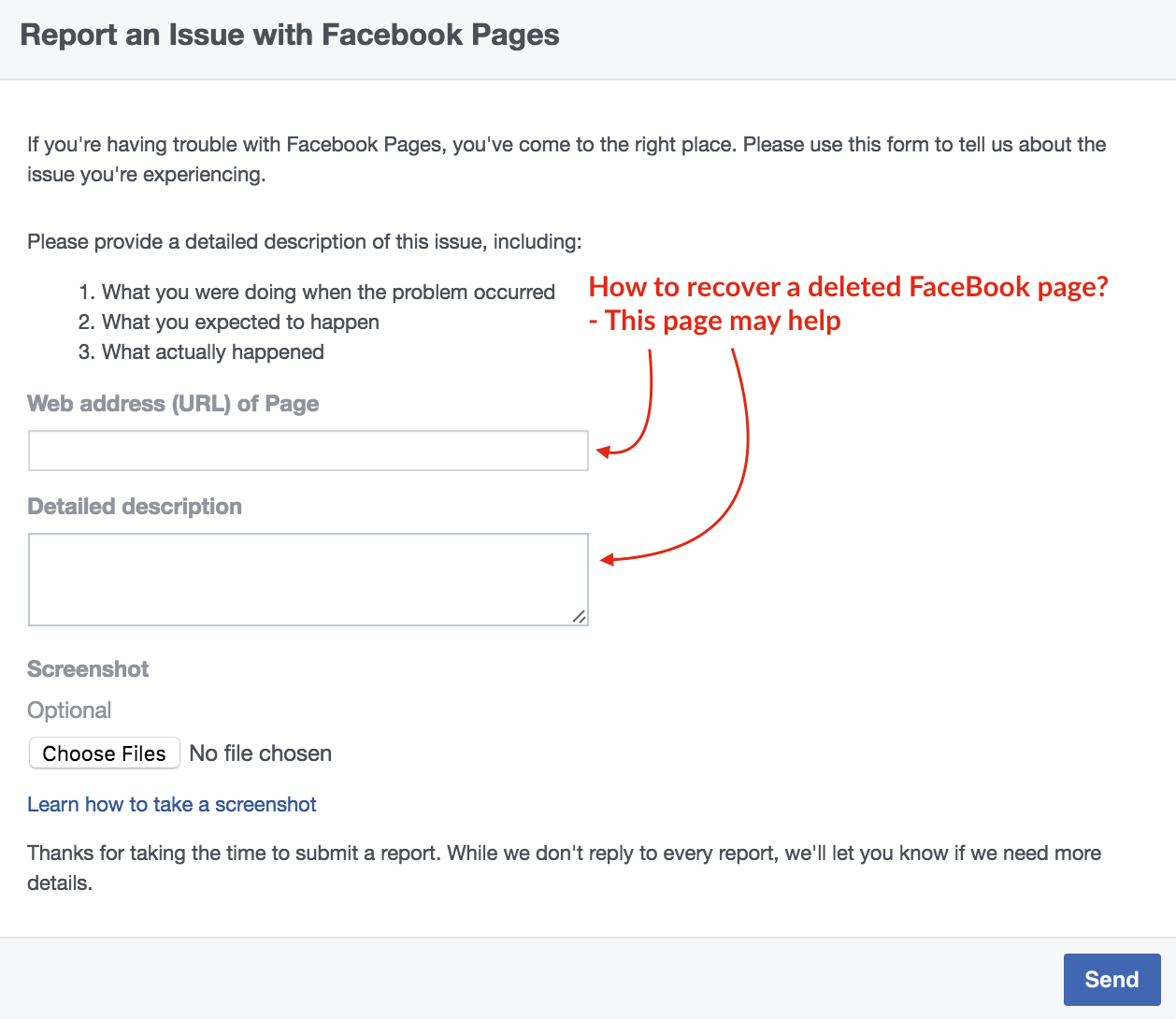 Facebook is no doubt is the best social network out there. With more than 2 Billions uses around the globe you gets highest visibility across the platform.
Are you owning a small business or medium business, facebook advertising suite best to you to get started getting more customers. Have you ever wondered how much your facebook page worth? Well, you won't even imagine and that's sometimes crosses millions.
In this article, we will provide you steps on how to recover your facebook page which you may have deleted by mistake or it was deleted by somebody else.
Currently, Facebook provides an option to unpublish and delete page only after 14 days.

Are you an owner of Facebook Page? Ever lost your FaceBook fan page? Has your facebook account got hacked (compromised)?
This happened to many of the peoples out there due to hackers, by mistake, etc. But what do you do if this happened to your Facebook page? I just came across those links on Facebook help page:
Facebook has provided an option in order to recover deleted page
Fill this form in case, if your page had a bug – by mistake deleted, hacked, etc.: https://www.facebook.com/help/contact/164405897002583
I would also send out an email on info [at] support.facebook.com with subject Please help restore my facebook page.