Everybody starts from small venture and overtime it may become a true niche business. That is exactly what happened with so many my friends and best buddies.
When site growth, user growth, traffic increases, it becomes challenging for us to maintain and sustain quality of the site.
There are so many parameters to consider when we look at site:
Number of different Metrics

page, post speed
load time
inbound, outbound links

Number of different Errors
Broken links

expired plugins
expired domains over time
and so on… hundreds of possibilities
That's where OnCrawl comes into the picture. It crawls your business niche site every month and performs all kind of HTML and SEO checks for you in the background.
Why to pay for $500, $1000 or more for SEO service fee? Do it by yourself with smart analyzer. We tried on Crunchify and reports are very detailed.
Crunchify is WordPress site and we do use number of different plugins which affects user and site behaviors. In this tutorial we will go over how OnCrawl will help you grow your business and help avoid potential issues on your site.
How do I get started?
Step-1
Login to OnCrawl.com
Step-2
Add New Project and provide your site URL
Select Max crawl speed
Click on LAUNCH A NEW CRAWL
We ran report today on April 8th, 2016 with below settings.

It may take up-to an hour to crawl your site based on settings and how big is your site. Once your site crawl finishes, you will get an email with report link.

What are the key benefits:
Point-1
General Summary tab with all details such as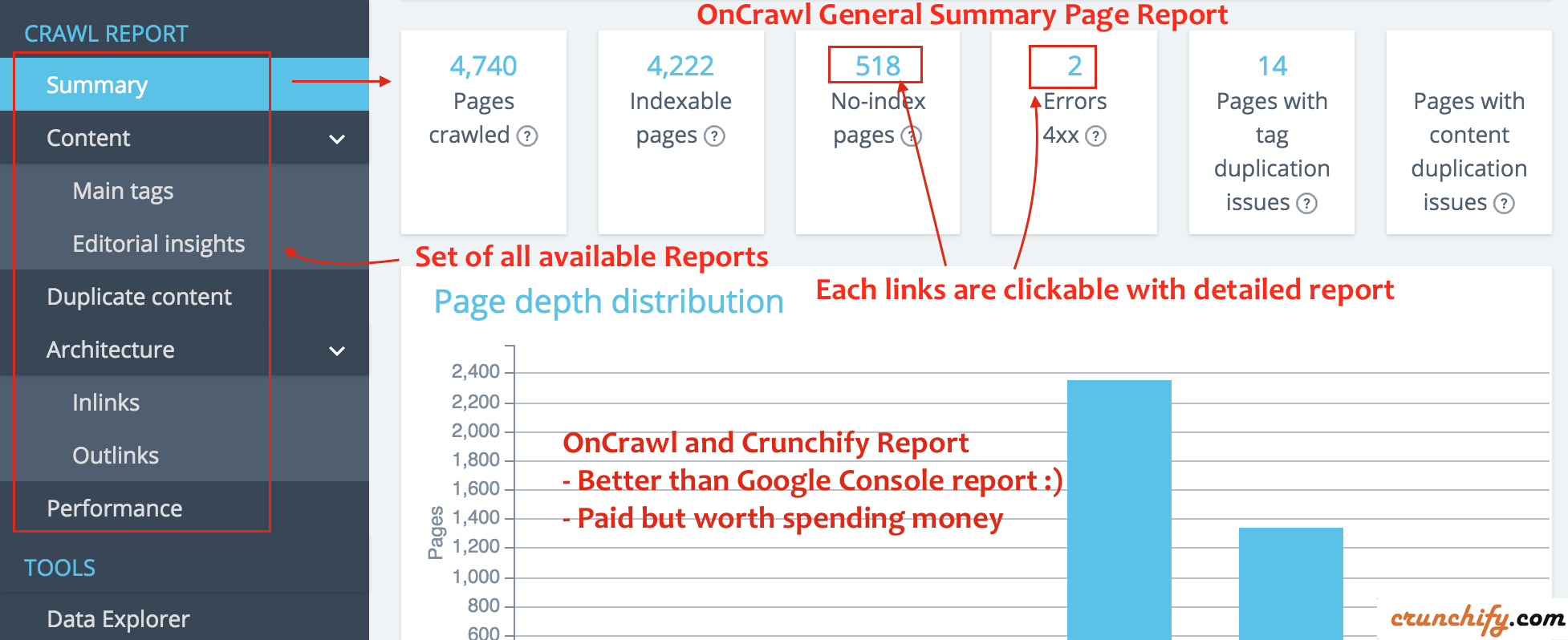 Point-2
Editorial Insight Report which shows all below metrics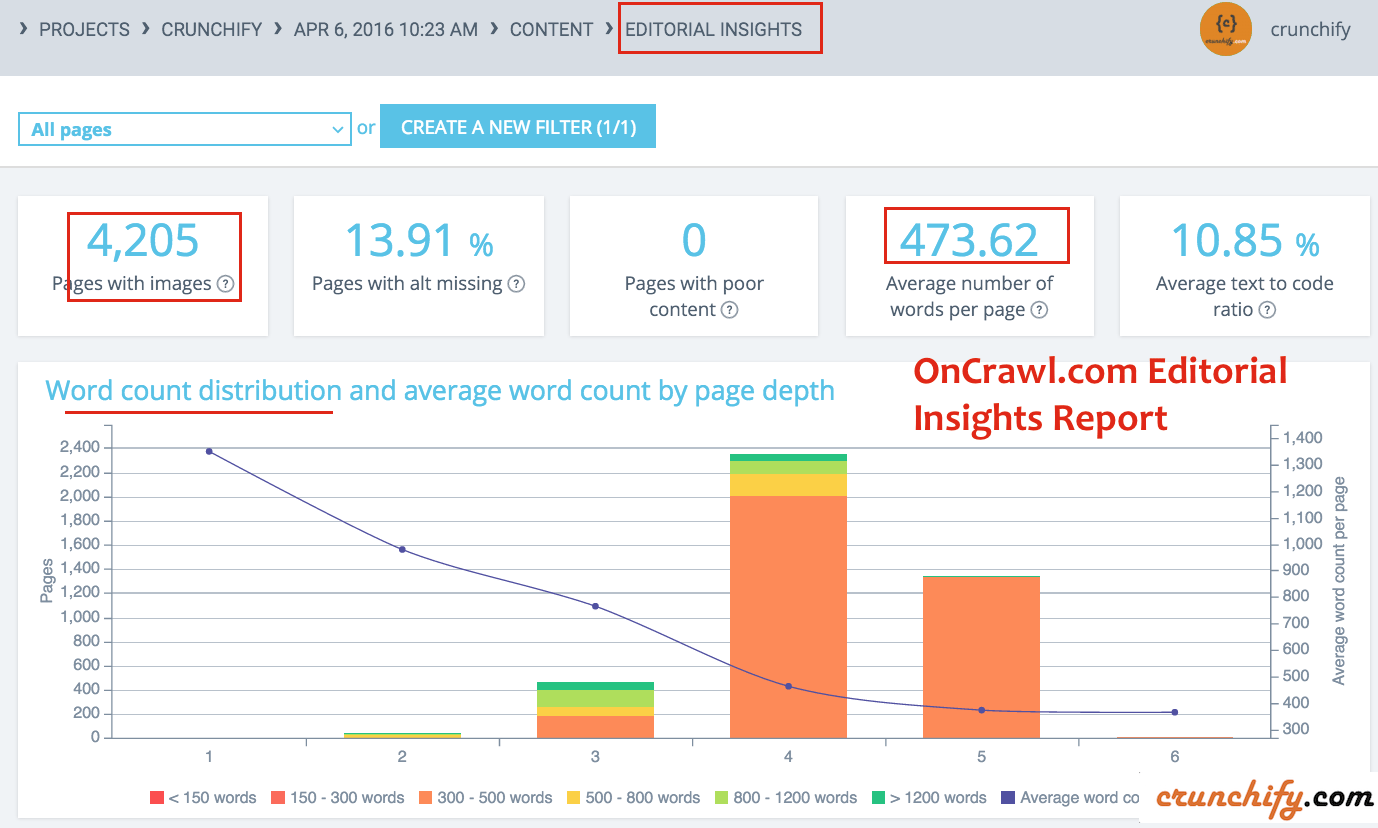 Point-3
Find out detailed analysis on total/average number of InLinks and OutLinks.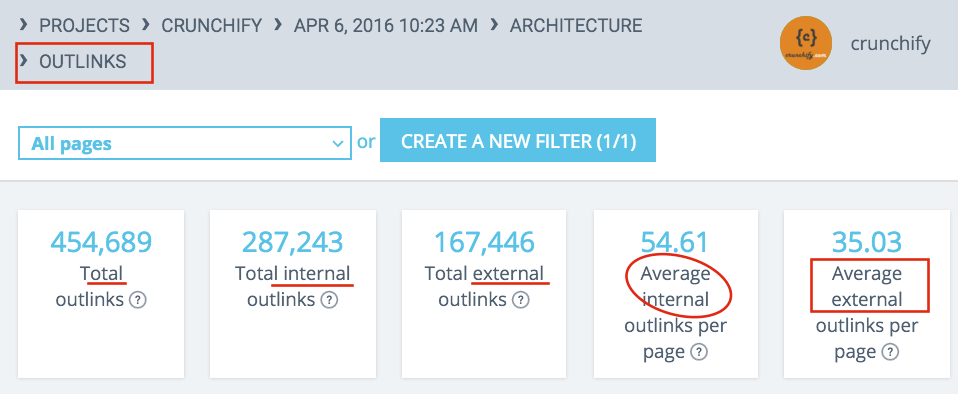 Report also provides details on
Active Pages report
Crawl ratio by average inlines
Orphan Pages
Crawl ratio by depth
And possibilities are endless. Each and every tab and reports are very detailed.
Take a look detailed Youtube Video:
Why should I use OnCrawl?
I believe, your goal should be to provide better and quality rich articles to readers. As you know, overtime broken links, 404 errors, worst page load time, 5xx errors, etc creates bad impression on your users.
It's always good practice to take a look look for a generated report every month and fix most common errors.
As you know, page load time, faster page Vs. slow page is a one of the main Google Search Engine Result  Page (SERP) criteria. By looking at detailed analysis on worst loaded page, you could definitely improve your site speed and eventually better user experience and Google page index 🙂
How much does this cost?
OnCrawl service charges $12.42/month if you pay annually at signup. Also, OnCrawl has 30 days money free guarantee to try it out.
I would say, it's worth trying and checkout result by yourself. If you don't like, just cancel your subscription.
Use code CRUNCHIFY during signup for 1 month free PRO subscription.
At Crunchify, what we are going to fix by looking at report?
Here is a list of tasks which we are going to work on 🙂
Fix 4xx errors
Duplicate contents issue (mainly for tags)
Verify one more time – noindex on sub pages, i.e. /pages/2/, pages/3/, etc.
Few pages loads slowly, I may remove images or optimize images
Fix 6 pages with duplicate meta description, I may start using except now.
I need to fix missing alt tags for images
Verify nofollow link attributes across site. This is where I'm going to spend more time.
Found total 11 301 redirects. Need to verify those are correct.
So, this is my TODO list and I'm going to fix HTML quality of my site Crunchify. Check it out what you could do with the report and how fix these those Search Engine Optimization related tasks.
Get in touch with us if you do have a product, plugins, themes, etc which you think you want to promote on Crunchify.