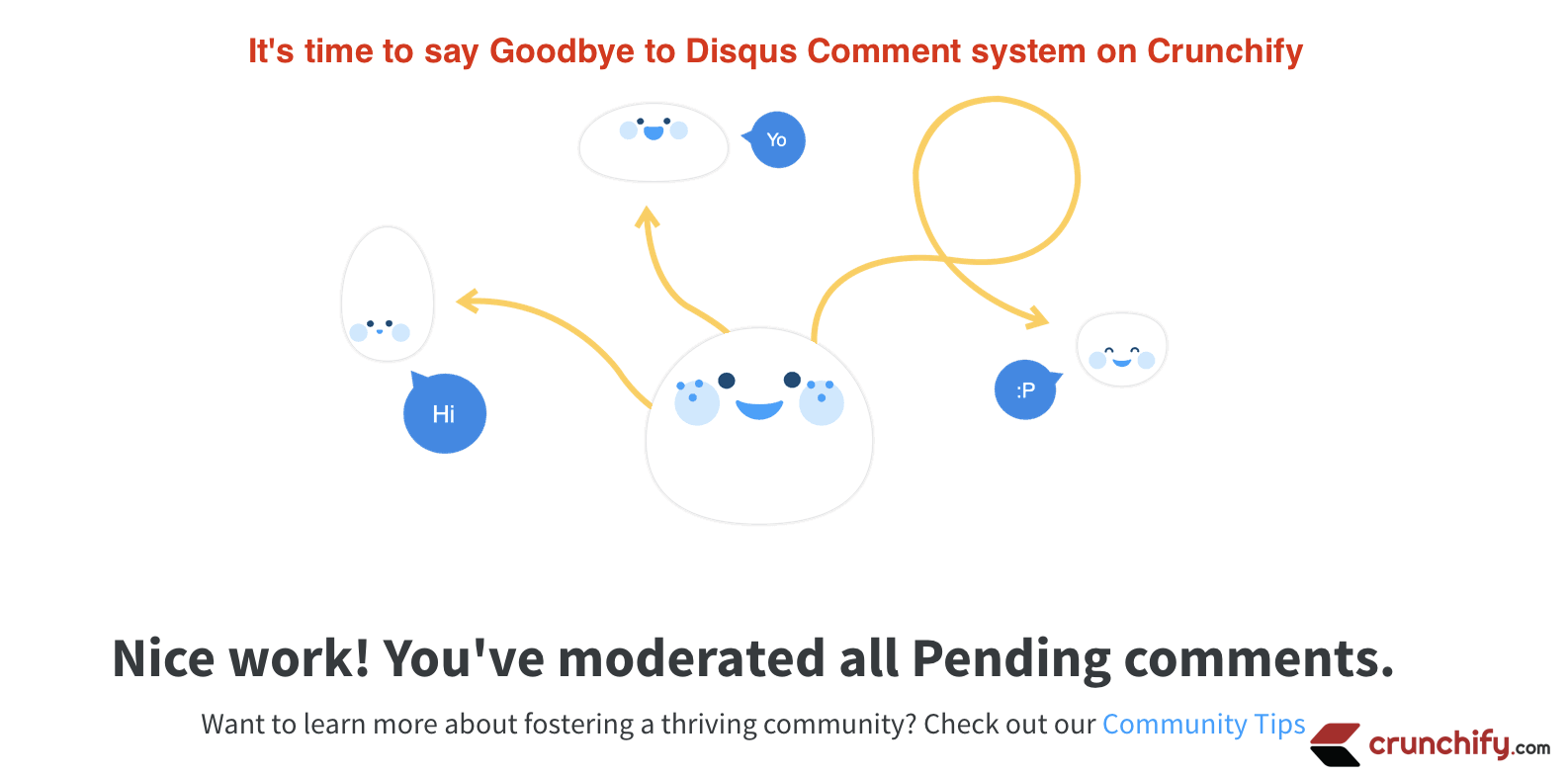 Why I killed Disqus Commenting on my site?
On Crunchify, we have been using Disqus since long time. I would say almost 3 years. With more than 14,500 comments on site, it worked very well for us.
Why this sudden change?
You must have felt before about page load speed issue because of Disqus.
Is Disqus Killing Your Blog? Why (and How) I Pulled the Plug? Check it out below. For us, It's time to say goodbye to Disqus comments.
Well, this is not a sudden change as we have been looking for alternatives for Disqus since last 2 weeks. After careful evaluation and review we finally decided to kill Disqus on Crunchify and enable default WordPress comment form.
Let's first understand Pros and Cons of Disqus Comment System.
Pros of Disqus:
Disqus extends functionality of default comment system
You will have dedicated approval control panel at disqus.com site
Solid spam moderation and filtering
IP blocking and user blocking features
Auto sync with WordPress comment systems
Social Login for users
Disqus has been enabled on some of the large sites across the world and it's been working fine for some.
On Crunchify, we have been using Disqus with Disqus Conditional Load plugin as it was lazy initializing plugin on user click event or mouse scroll event.
Cons: There are 4 major problems with Disqus
These all 4 issues contributed us to move away from Disqus.
Issue # 1
Recently disqus announced paid plan which is like $10/month with only 50,000 visits/month and $99/month for more larger sites.

As we have average monthly ~16 millions pageviews, we fits with $99 per months plan which kind of too much for only commenting systems.
There is a basic plan which is Ads Supported. To be honest, I don't like any additional Ads injection by third party on Crunchify.
Take a look at these screenshots.
Disqus Adds 2 ads even if you don't any comment on blog post.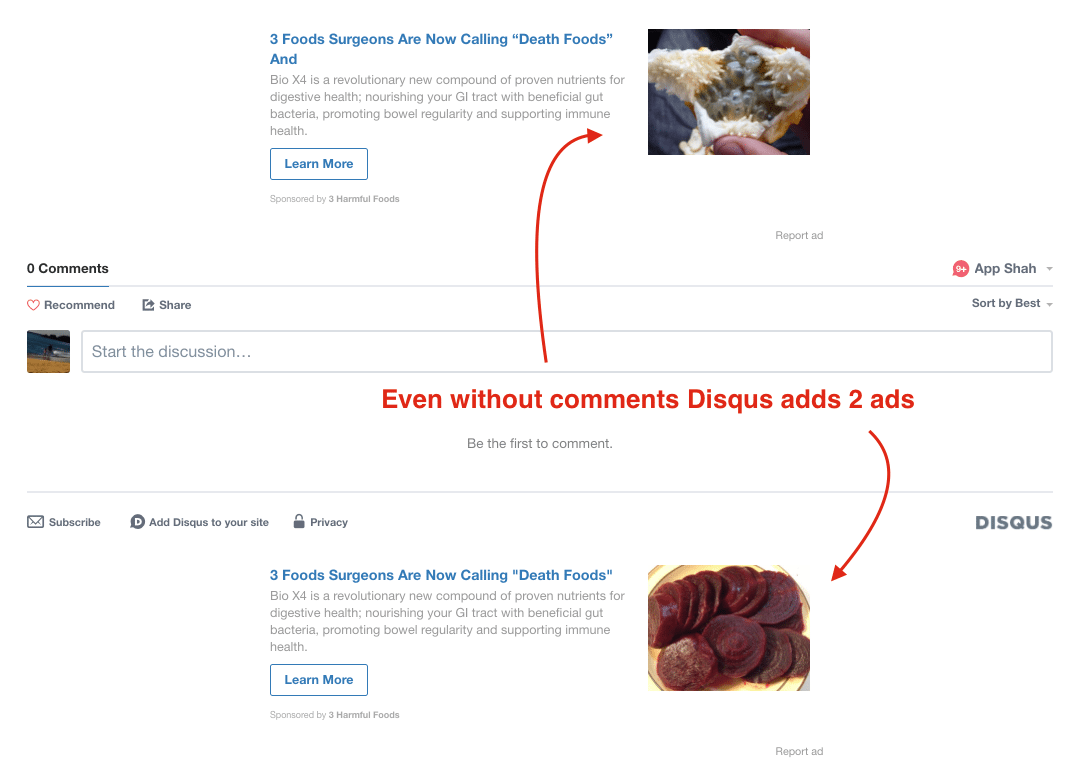 Another Ad in between Disqus comment feed.

Issue # 2
If you track how much resources/request Disqus adds on your site, you will be shocked. I just did simple check and saw Disqus adds total 57 external files on single blog post.
57 External files on Single Blog Post??? Disqus – I'm sorry but I must say, this is insane? 🙁
Take a look at these all files.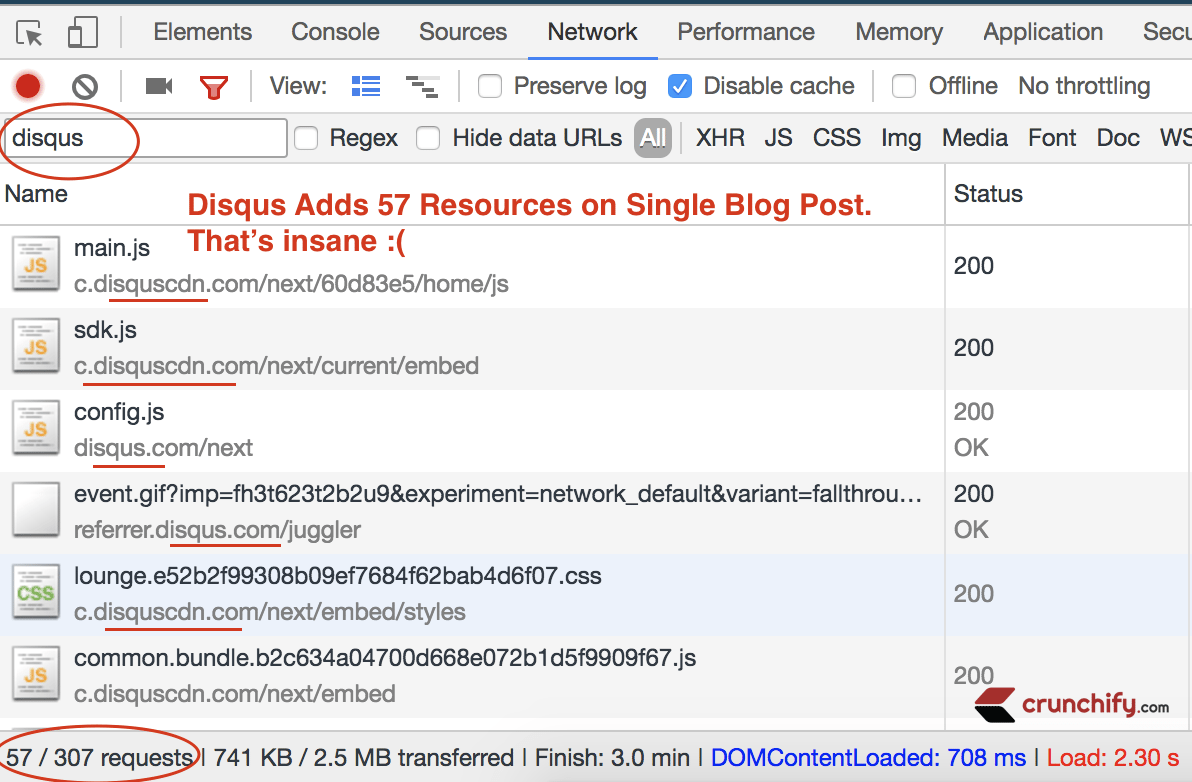 This is absolutely not acceptable. You don't even know which files Disqus is loading.
Issue # 3
Trust issue. What do you think what Disqus gets from all above javascripts? Somehow somewhere they are tracking all metrics which you may not want them to track.
I tried to disable some of the options available from Admin panel but not all. For me it seems, Disqus needs to be more transparent.

Issue # 4
Disqus adds too much Memory and CPU load on server. Take a look at detailed tutorial.
Now, what's next after Disqus?
Please follow this detailed article to clean up all Disqus meta-data from WordPress DB.
Well, I'm really going to miss Disqus moderation panel but I'm ready to accept default WordPress comment form and admin panel.
There are few setup tricks like
How to setup Comment Spam right way?
How to add Google invisible re-captcha rightway on Crunchify Comment form?
How to subscribe to comment option right way?
I'll publish all details in separate tutorial.
We moved back over to Disqus for mainly moderation feature. We are giving it a second chance to see how it goes. Please stay tuned for more details.
We are currently subscribed to PRO feature. So far it's good.