An Introduction To Google Analytics For WordPress
Google Analysis is an essential part of my blogging career and success so far. There are number of different metrics you could check everyday.
Here are few of my favorite things which I check everyday:
Number of users
Page views
Sessions
Geo locations
Browser
Bounce rate
Time Spent on Site
Number of pages/user
Possibilities are endless. With over 16 millions visitors per month, even small change I do on Crunchify site creates big impact on users. Google Analytics is a key tool to measure site impact before and after my changes and I would recommend it to all bloggers out there.
In this tutorial, we will go over two things.
How to setup Google Analytics for 1st time
How to add Google Analytics code to your site to track all data
Let's get started on How to Install Google Analytics on Your WordPress Site?
Point-1. Setup Google Analytics for 1st time
Step-1
Visit URL https://google.com/analytics/
Click on Sign-in button
Step-2
Create new account
Provide Account Name, Website Name and URL
Click on get Tracking ID button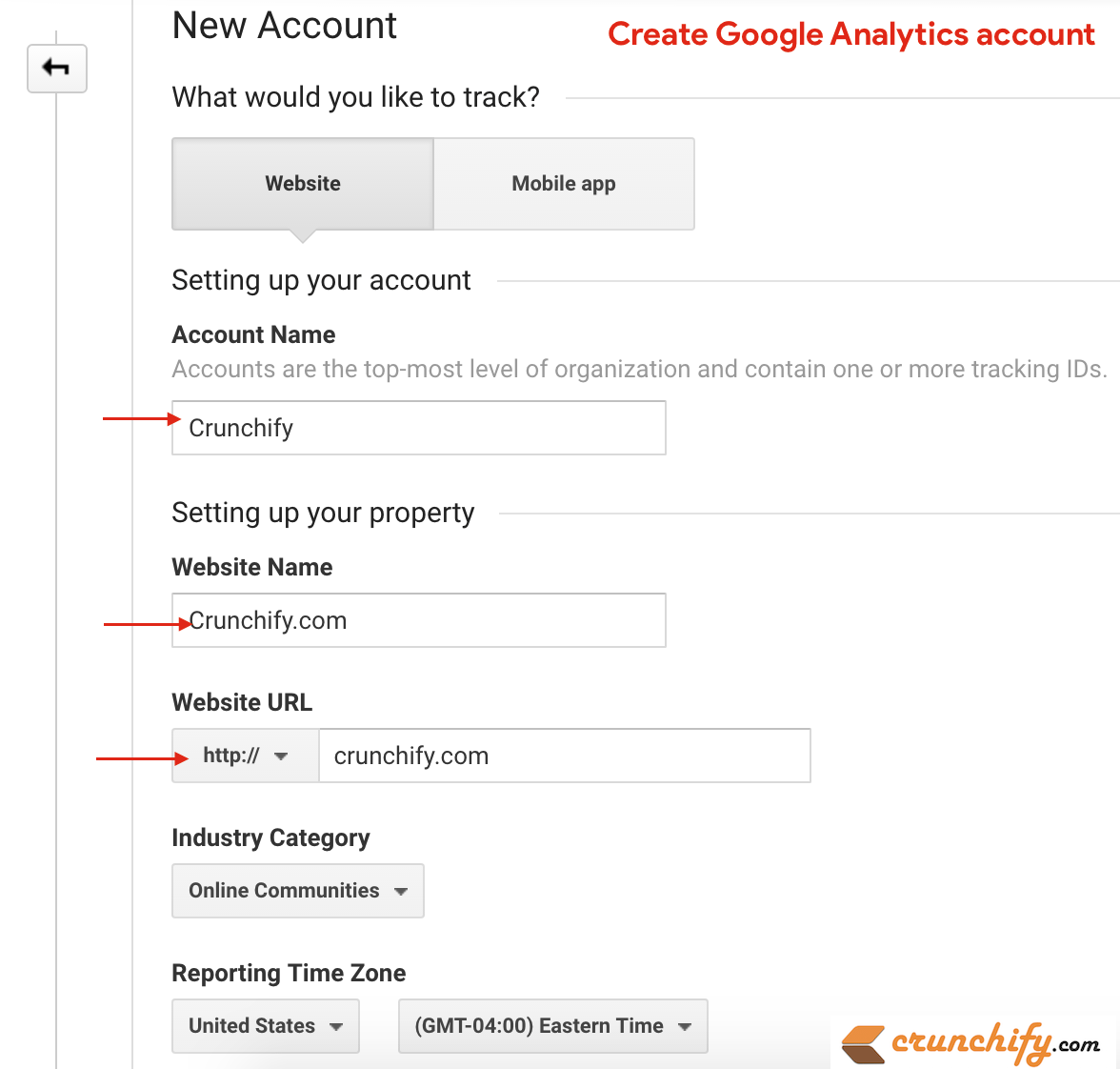 Step-3
You will be redirected to Google Tracking code page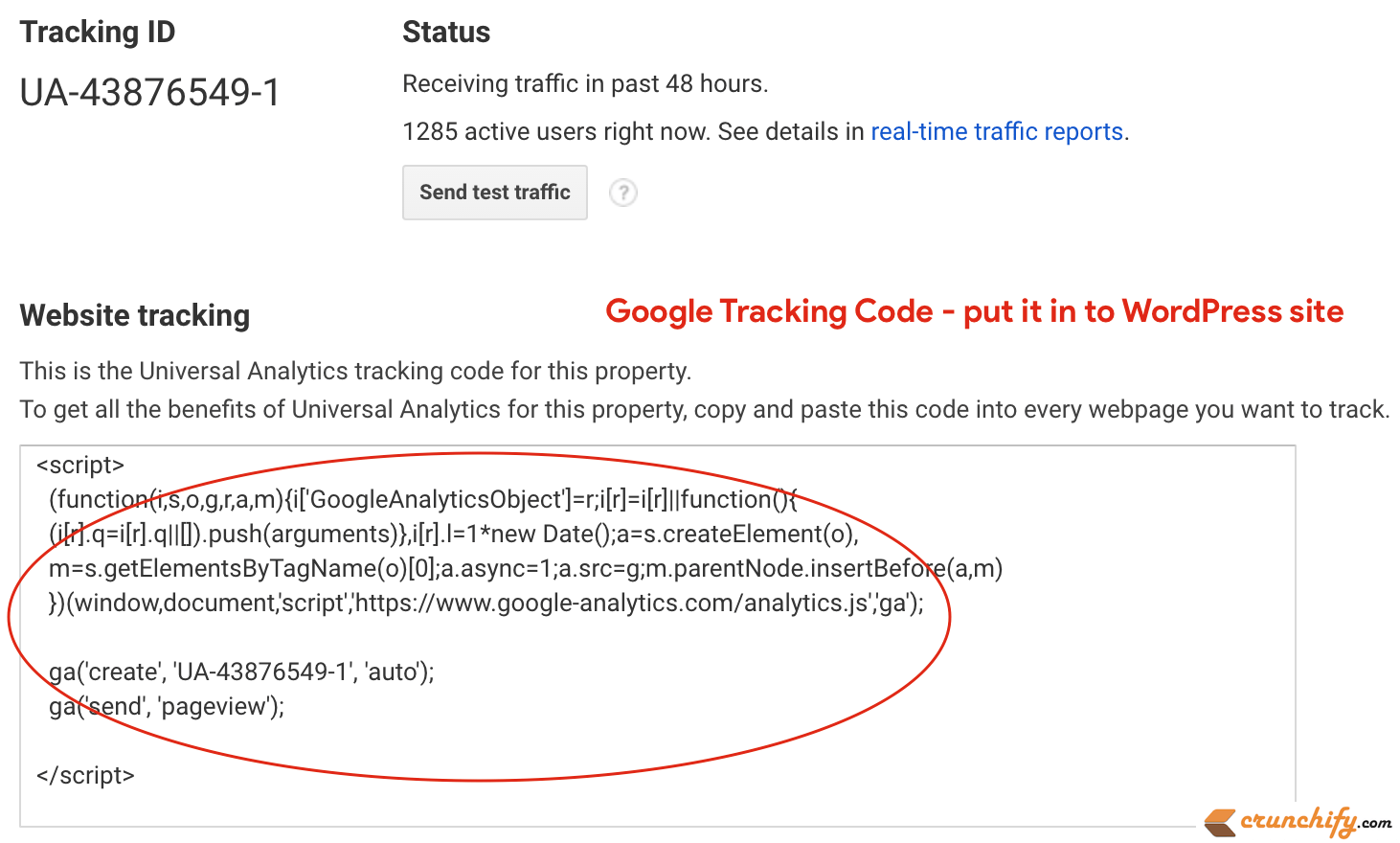 And that's it. You need to put this code into your WordPress site.
Point-2 How to Google Analytics code to WordPress?
Download All in One Webmaster free WordPress Plugin
Just copy your tracking ID code
Go to AIO Webmaster -> Analytics Options tab
Put your tracking ID for Google Universal Analytics field
Save settings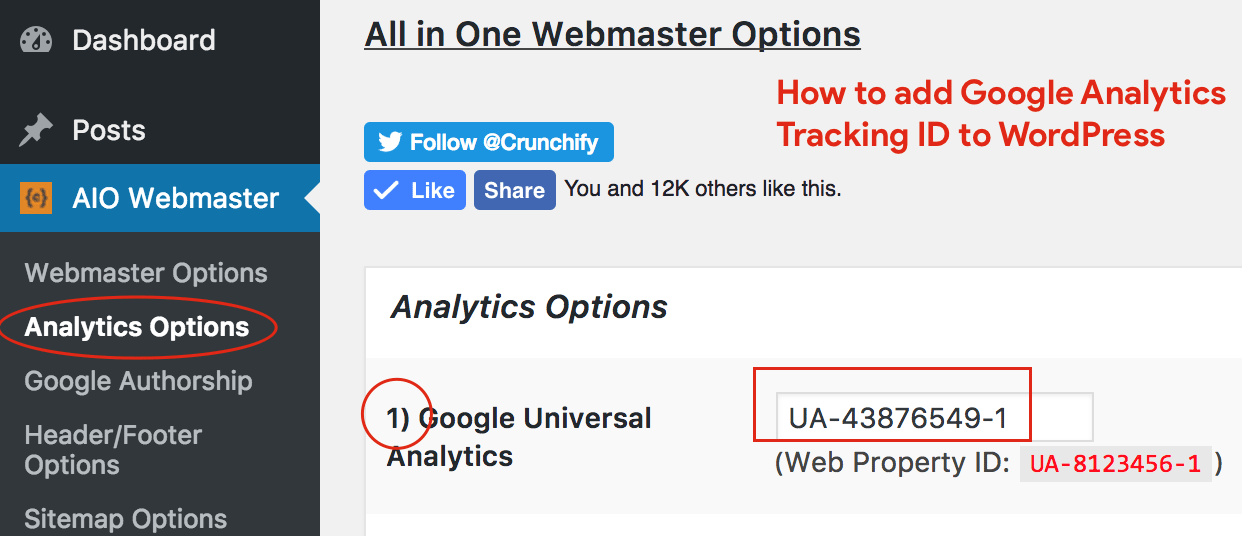 Plugin will do all the test and you will have your code inserted into your WordPress site at runtime.
How to verify Google Analytics code?
Visit your site URL
Right click on page
Click on Inspect if you are running Google Chrome browser
Look for analytics code as below image

That's it. Now you should have all metrics tracked under Google Analytics for ever. Even if you change your theme, you don't have to worry about updating Google Analytics code as it will be handled by All in One Webmaster plugin.
With above techniques you will have your dedicated WordPress Analytics Dashboard.